Kevin Dunn and Julie White Sign Deals For "Transformers 3"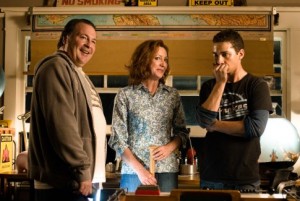 This could be another sign that Transformers 3 will suck. Kevin Dunn and Julie White have signed back on as Ron and Judy Witwicky, the parents of Sam in the Transformers series. They join other cast members such as Shia LeBeouf, Megan Fox, Tyrese Gibson, Josh Duhamel, John Malkovich, Frances McDormand, and Ken Jeong who have all signed deals to appear in the sequel set for release on July 1, 2011.
I don't know about you, but the parents were only slightly tolerable in the first film. The second film they were one of my major complaints. Julie White's performance was so jarring and stupid, that I just couldn't keep my focus on the eight million explosions happening on screen.
Maybe it is good that I have such low expectations for the next film, and maybe that way it will surprise me? Nope, don't think so either.