"The Informant!" Starring Matt Damon, in theaters next Friday. Win FREE Passes to the screening tomorrow!
ReviewSTL.com invites you and a guest to attend a special advance St. Louis screening of "THE INFORMANT!"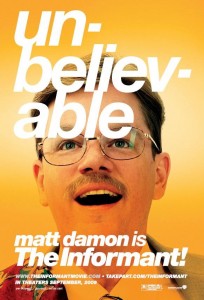 Enter for your chance to win a pass good for two!
Screening is 9/10 at DES PERES 14
NO PURCHASE NECESSARY
OPENS NATIONWIDE SEPTEMBER 18
Please note that winning passes to "THE INFORMANT" does not guarantee admission to the film. You must arrive early as seating is first-come, first-served. It is usually safe to arrive at least 1 hour or more before show time!
To enter the contest, simply leave a comment below with the finniest or most awkward story about having to keep a secret. Winners will be notified tomorrow morning via e-mail.
Good luck! We hope to see you at the movie.
Synopsis:
What was Mark Whitacre thinking? A rising star at agri-industry giant Archer Daniels Midland (ADM), Whitacre (Matt Damon) suddenly turns whistleblower. Even as he exposes his company's multi-national price-fixing conspiracy to the FBI, Whitacre envisions himself being hailed as a hero of the common man and handed a promotion. But before all that can happen, the FBI needs evidence, so Whitacre eagerly agrees to wear a wire and carry a hidden tape recorder in his briefcase, imagining himself as a kind of de facto secret agent. Unfortunately for the FBI, their lead witness hasn't been quite so forthcoming about helping himself to the corporate coffers. Whitacre's ever-changing account frustrates the agents (Scott Bakula and Joel McHale) and threatens the case against ADM as it becomes almost impossible to decipher what is real and what is the product of Whitacre's active imagination.
Academy Award® winner Matt Damon ("Good Will Hunting," the "Bourne" movies) stars in "The Informant!," based on the true story of the highest-ranking corporate whistleblower in U.S. history. The film also stars Scott Bakula, Joel McHale and Melanie Lynskey.
"The Informant!" is directed by Academy Award® winner Steven Soderbergh ("Traffic") from a screenplay by Scott Z. Burns, based on the book The Informant (A True Story), written by Kurt Eichenwald. The film is produced by Gregory Jacobs, Jennifer Fox, Michael Jaffe, Howard Braunstein and Kurt Eichenwald. George Clooney, Jeff Skoll and Michael London served as executive producers, with Michael Polaire co-producing.
THIS FILM IS RATED R.
WATCH THE TRAILER