The Final Destination (3D)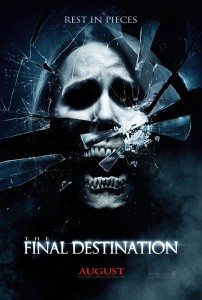 What could four mid-twenty-year-olds, Bobby Campo (Nick O'Bannon), Lori Milligan (Shantel Van Santen), Nick Zano (Hunt Wynorski), and Haley Webb (Janet Cunningham) have in common with a Security Guard (Mykelti Williamson), a Mother (Krista Allen), a Gearhead and his girlfriend (Andrew Fiscella)/ (Stephanie Honre), a Racist and his wife (Justin Welborn)/ (Lara Grice), and finally – a Cowboy (Jackson Walker)?
*SPOILER ALERT* (Highlight to Uncover) *SPOILER ALERT*
Answer: They all die in 3D, during the first ten minutes of this new sub-genre of 3D horror films, from New Line Cinema. At least in Bobby's vision – or else there would be no more film…
If you have seen any of the other "Final Destination" films, you know that they are not killed by a Michael Myers / Freddy Kruger type killer. But instead, these victims are killed in a "random" accident. In the past three films we have seen an Airplane Crash, Car Accident, and a Roller Coaster Accident. In this "Final Destination," we see an accident take place at a Nascar Race.
All of the "Final Destination" fans will know the story line of the main character (Bobby in this film), who has a vision of the first death scene. Bobby then warns people, and some of the characters get out of the race before Death gets all of the victims. Apparently this really pisses off Death, because his design is ruined. Death then comes after each survivor one-by-one. This sets up what I call the fun for the audience, watching with anticipation as Death carefully sets up scenario's for the next victim. Since Death is not human, it is not bound by any physical rules. The only method that Death follows is that the survivors have to be killed in the order they would have been killed in originally. This sets up some really elaborate, and of course entertaining, ways that the characters are killed. In the past three films, the writers always had great ways of killing people. Now add the 3D aspect, and not only are the ways creative and fun – but also bring the audience closer to the action.
The main problem with "The Final Destination" is that it isn't fluid at all. The film jumps around way more than any of the other previous series. This, along with poor acting, removes any emotional attachment that you might have had with any of the characters. In other words, you really don't care if – and how – they die. Also, for a Horror film, there is way too much comedy. I think that I heard more laughter than I did shrieks.
The good thing about the film is that they take full advantage of the "RealD" 3D element of the film. We as Audience members have body parts, cars, and other objects thrown our way throughout the entire film. All in all, it is an entertaining film – and I kept finding myself trying to guess how the next survivor was going to die.
Grade…If you are going to see the movie you must see the Movie in 3D if not it will be Really Bad. I would grade the film with 3D a C without 3D the film would have to be a D.