Win FREE Passes to see "9" at the St. Louis Advance Screening
ReviewSTL.com invites you and a guest to attend a special advance St. Louis screening of "9."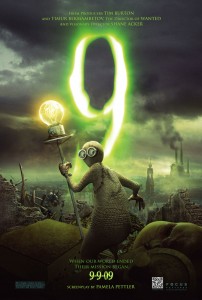 Enter for your chance to win a pass good for two!
Screening is on Tuesday, September 8
NO PURCHASE NECESSARY
OPENS NATIONWIDE 09-09-09!
Please note that winning passes to "9" does not guarantee admission to the film. You must arrive early as seating is first-come, first-served. It is usually safe to arrive at least 1 hour or more before show time!
In order to enter the contest, simply leave a comment below with why you want to see the movie. Feel free to make it fun – be as funny, serious, or descriptive as possible! Winners will be randomly drawn, and notified via e-mail.
Good luck! We hope to see you at the movie.
Watch the HD Trailer for "9" Below

An action-packed adventure, director Shane Acker's animated fantasy epic 9 is the feature-length expansion of his Academy Award-nominated 2004 short film of the same name. The screenplay for the feature is by Pamela Pettler (Monster House); directors Tim Burton (Beetlejuice) and Timur Bekmambetov (Wanted) are among the feature version's producers.
The time is the too-near future. Powered and enabled by the invention known as the Great Machine, the world's machines have turned on mankind and sparked social unrest, decimating the human population before being largely shut down.
But as our world fell to pieces, a mission began to salvage the legacy of civilization; a group of small creations was given the spark of life by a scientist in the final days of humanity, and they continue to exist post-apocalypse. Another of their own, #9 (voiced by Elijah Wood), emerges and displays leadership qualities that may help them survive and possibly even thrive. The conflicted but resilient tribe already includes #1 (Christopher Plummer), a domineering war veteran and the group's longtime leader; #2 (Martin Landau), a kindly but now-frail inventor; #3 and #4, scholarly twins who communicate nonverbally and mostly with each other; #5 (John C. Reilly), a stalwart and nurturing engineer; #6 (Crispin Glover), an erratic artist beset by visions; #7 (Jennifer Connelly), a brave and self-sufficient warrior; and #8 (Fred Tatasciore), the none-too-bright muscle and enforcer for #1.
With their group so few, these "stitchpunk" creations must summon individual strengths well beyond their own proportions in order to outwit and fight against still-functioning machines, one of which is a marauding mechanized beast. In the darkness just before the dawn, #9 rallies everyone of his number to band together.
While showcasing a stunning "steampunk"-styled visual brilliance, 9 dynamically explores the will to live, the power of community, and how one soul can change the world.
A Focus Features presentation in association with Relativity Media of a Jim Lemley/Tim Burton/Timur Bekmambetov production. 9. Elijah Wood, John C. Reilly, Jennifer Connelly, Christopher Plummer, Crispin Glover, Martin Landau, Fred Tatasciore. Casting by Mindy Marin, C.S.A. Themes by Danny Elfman. Score by Deborah Lurie. Edited by Nick Kenway. Associate Producers, Graham Moloy, Lilian Eche, Pierre Urbain. Animation Produced at Starz Animation, Toronto. Co-Producer, Jinko Gotoh. Co-Producer, Marci Levine. Produced by Jim Lemley, Tim Burton, Timur Bekmambetov, Dana Ginsburg. Story by Shane Acker. Screenplay by Pamela Pettler. Directed by Shane Acker. A Focus Features Release.
For more information, visit the official website at filminfocus.com/focusfeatures/film/9.