"The Adjustment Bureau" HD Trailer Starring Matt Damon and Emily Blunt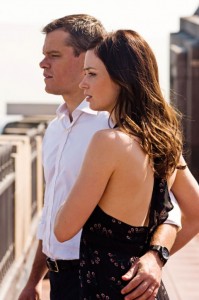 I had heard nothing about this film when I watched the trailer. I started out watching it, yawned, and then though, "Oh wow, another political movie." Don't get me wrong I love politics, but there is enough drama in them in real life that I can only watch a few political thrillers per year. The the trailer quickly turned into a love story. My interest was raised a bit, but nothing I hadn't seen before. The final straw was when the agents of Fate, The Adjustment Bureau, came into play. My jaw dropped, and I found myself watching a highly unique sci-fi thriller trailer that has me excited more than ever for this summer. Matt Damon continues to show why he is the top A-Lister from the Good Will Hunting cast, and Emily Blunt looks ready to keep her spot on the A-List. Easily one of my most anticipated films of the summer.
Synopsis:
On the brink of winning a seat in the U.S. Senate, ambitious politician David Norris meets beautiful contemporary ballet dancer Elise Sellas — a woman like none he's ever known. But just as he realizes he's falling for her, mysterious men conspire to keep the two apart. David learns he is up against the agents of Fate itself — the men of The Adjustment Bureau — who will do everything in their considerable power to prevent David and Elise from being together. In the face of overwhelming odds, he must either let her go and accept a predetermined path… or risk everything to defy Fate and be with her.
Starring: Matt Damon, Emily Blunt, Anthony Mackie, John Slattery, Shohreh Aghdashloo
Directed by: George J. Nolfi
Produced by: George J. Nolfi, Chris Moore, Michael Hackett
Genres: Romance, Science Fiction/Fantasy, Thriller, Adaptation and Politics/Religion
Release Date: September 17th, 2010 (wide)