Taylor Lautner is "Stretch Armstrong"
First disregard the fact that Lautner was not even a glint in his father's eye when the original Stretch Armstrong was popular, but then think about the fact that they are actually producing a Stretch Armstrong movie. This is one of the many roles that Lautner has been rumored to be tied to as of late.  They boy is red hot after appearing in the high grossing, and pop culture phenomenon New Moon, and is consistently being offered roles in franchises. It will be interesting to see how long he is able to maintain that golden boy image.
Universal's Press Release: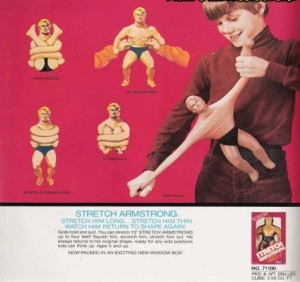 Universal Pictures announced breaking news about two of its upcoming event films based on popular Hasbro brands, Stretch Armstrong and Battleship. The announcements were made today by Universal Pictures Chairman Adam Fogelson and Co-Chairman Donna Langley.
Taylor Lautner (the Twilight saga) will play the title character in the upcoming 3-D superhero adventure Stretch Armstrong, to be released in 2012.
The epic action-adventure Battleship has moved its release to May 25, anchoring the Memorial Day weekend of 2012.
"Universal has put all the elements in place to successfully launch two of our classic Hasbro brands on the big screen," said Brian Goldner, President and CEO of Hasbro, Inc. "The addition of Taylor Lautner and the 3-D twist to Stretch Armstrong, in addition to giving Pete Berg and the filmmakers the extra time and resources to make Battleship an even bigger summer blockbuster, is sure to pay dividends when the film is released in 2012."
Peter Berg (Hancock, The Kingdom) came aboard in Fall 2009 to produce and direct Battleship, which will unfold as a massive Naval adventure across the seas, in the skies and over land as our planet fights for survival against a superior force. Originally slated for release in July 2011, the film was moved to give it the time and resources to thoroughly realize its huge-scale ambitions and position it for Memorial Day weekend in 2012. Scott Stuber (The Wolfman, Couples Retreat) is producing Battleship through his Universal-based Stuber Pictures, and Sarah Aubrey (The Kingdom, upcoming Dune) is producing with Berg for Film 44. Brian Goldner and Bennet Schneir are producing for Hasbro.
"We believe in Pete Berg and the incredible vision that he and the Battleship team have for this film," said Fogelson. "We're honored that Hasbro is partnering with us to turn one of its landmark properties into a huge summer box-office hit."
Stretch Armstrong is moving to 2012 to allot time to shape the project into a 3-D superhero adventure and to accommodate Lautner's existing commitments.
"In the past two years, Taylor has emerged as a real star at the global box office. He brings the perfect balance of energy and athleticism to the role of an unlikely super hero with a fantastic super power," said Langley. "We couldn't be more pleased that he has agreed to be our Stretch."
Stretch Armstrong is based on the iconic action figure made popular around the world beginning in the 1970s and re-launched in the 1990s. Academy Award®-winning producer Brian Grazer (A Beautiful Mind, 8 Mile, American Gangster) will team with Hasbro to bring Stretch Armstrong to life. Steve Oedekerk (Bruce Almighty) has written the screenplay, and Hasbro's Goldner and Schneir also produce.
The other piece of news we have here is that Hasbro apparently believes that anything is worth producing these days. I think that Hollywood forgets that because one thing that is somewhat similar works, doesn't mean others things like it necessarily will.