"Mr. and Mrs. Smith" Getting a Reboot?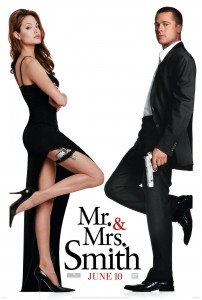 I remember talking to a friend a few years ago about the fact that he thought Hollywood had run out of ideas. Everything coming out was adaptations at the time or remakes of popular series or movies from a different period. Unfortunately, neither of us had the foresight to see just how bad things would get. Hollywood is constantly resorting to rebooting series that are still fairly new. Some of them were needed, and had some great results, such as the Batman franchise which saw universal acclaim with Batman Begins and The Dark Knight.  Others, such as Edward Norton's Incredible Hulk were not as lucky. So far much of the reboots have been confined to popular comic book series, and the big announcement a few weeks ago of a reboot of the popular Spider-man franchise took many by surprise.
Well, now the biggest surprise is coming. Regency Pictures, a subsidiary of 20th Century Fox, has a script treatment in the works of a prequel reboot of the popular 2005 film, Mr. and Mrs. Smith. Brad Pitt and Angelina Jolie would not be reprising their roles, but would instead be replaced with younger (and cheaper) actors to tell the story about how they became spies.
This appears to be the newest and most effective tactic in Hollywood, reboot a series and reproduce it with a lower budget and no name actors. The series itself sells the tickets, and they have less chance of a loss on their hands. The one upside I can see from it is that we might find some genuine talent in the search for these reboots.
What do you think about all these reboots? Do you think this sounds like a great or horrible idea?