ReviewSTL vs. TheFlickFanatic – Battle For Their Souls with EA's Dante's Inferno at The TinCan Tavern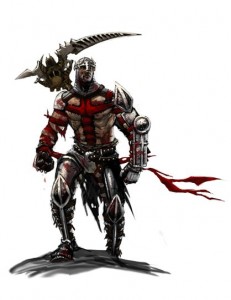 Who wants to see Kevin and I take on Karl (and whoever he picks for his second) from TheFlickFanatic.com in EA's new game Dante's Inferno? We will be playing this Wednesday February 10th at 7:30PM!
We will be playing at TinCan Tavern at Morganford Road, St Louis, MO 63116-1932. The TinCan will be serving "Inferno" Wings in honor of the game that we will be playing, and will be serving the wings all month long! They also have some awesome drink specials, and if you haven't checked it out, it is a really cool bar in St. Louis.
Come on out and try the new game EA's Dante's Inferno, sending you straight to hell! You can also register to win your own copy of the game on either Playstation 3 or Xbox360!
We here don't like to talk smack, but we heard through the grapevine that Karl is a bit of a sissy, and most likely this game is going to make him scream like a little girl. I, of course, heard this through a friend of a friend of a guy who once met Karl at a grocery store, so who knows my intel might not be so valid. I'm sure Kevin and I will be sure to dominate, come on by and cheer us on (and buy us a beer or two if you feel so inclined).
EA introduces an all new original property from the studio behind the hit horror game, Dead Space. The game is based on part one of the medieval epic poem, The Divine Comedy, commonly referred to as Dante's Inferno, by Dante Alighieri. The dark fiction gave birth to the Tuscan Italian dialect and is widely considered the work that has defined the western world's contemporary conception of hell and purgatory. The poem tells the tale of Dante who journeys through the twisted, menacing nine circles of hell in pursuit of his beloved Beatrice.
Written in the 14th Century, The Divine Comedy, unlike the bible, was published and read aloud in the language of the Italian people, thereby making the poem accessible to the mass public. The poem delivers a striking and allegorical vision of the Christian afterlife and the punishments of hell. In part one, known as Dante's Inferno, Dante traverses all nine circles of hell; limbo, lust, gluttony, greed, anger, heresy, violence, fraud and treachery.