Sundance Coverage: Day Three

DAY THREE
WOW! It's like a whole different day! Oh, that's right, it IS!!!! Man, my days have now officially started running together! And boy, do I have a TON of fun flicks to talk about! So, I'm not gonna waste any time and we are gonna dive right in.
Here's the big one of the day:
The Runaways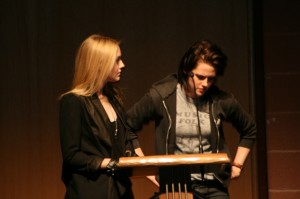 Yea, Kristin Stewart is in it…and y'all know how I feel about her. So imagine my surprise when I actually LIKED her performance????? She did a great job channeling Joan Jett, whom the story is bio-ing…is that a word????
And she even sang all her parts, no dubbing over Jetts vocals??? Quite nice actually, but the big winner of the evening for me was Dakota Fanning as Cherie Currie. The storyline follows the young two as they form the band the Runaways and the depths of emotions that were attached to them. Director Floria Sigismondi takes (some of ) us back to the days when it just wasn't cool for girls to rock it out…wait…can they rock it out now and be taken seriously????
And now for my biggest disappointments…first off, Joan Jett and her fallout with former Runaways member Lita Ford was very evident in the lack of screen time her character is given, as well as the leaving her out of the ending credits/updates. Which is totally sad as these two women are the powerhouses of female rock? My other disappointment came at the Q/A session at the end of the screening. Ms. Stewart plays her usual quirky "don't recognize me because I'm not worthy" crap. If you have the balls to make a movie, you should have the balls to promote it. Good but not great, although I am sure it will (hopefully) create LOTS of young female rock gods!!!!
Enemies of the People (partially subtitled)
This movie was beyond touching or moving; it was a lesson in forgiveness and humility. After Vietnam, Cambodia had to deal with the racial cleansing of over two million people that it was dealt by dictator/communist leader Pol Pot and his second-in-command, Brother Number Two. All of which has never been admitted to by any of the Vietnamese Communist Party. Enter Thet Sambath, an unassuming, kind man who is hiding a secret, that most of his entire family was killed in the Killing Fields as they have widely been called. Sambath is also a reporter for the Vietnamese Press, so he decides to take on a daunting task…to get close to and gain the trust of the men of this regime that are still alive. He literally spends 10 years getting involved in these men's lives in order to learn of the true horrors the times have created. As you sit and listen to him carefully draw out confession after confession, you almost find yourself feeling…well, sorry for some of these people. They come from simple stock and limited educations. They are told what to do or be killed along with their families. In the end, the closure Sambath gets is almost anticlimactic and I just wondered how he felt after these years…that it was worth the pain or that he never should have attempted it at all.
Ok time to go find some more movies to jump into…see you tomorrow with DAY FOUR!!!!!
Check out TheFlickFanatic.com for more!