Sundance Coverage: Day Four

DAY FOUR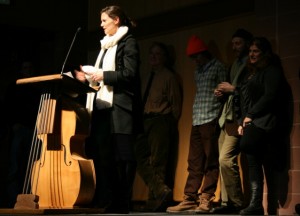 Well, every time I think we are gonna have a sunny day, we have had snow….today was finally a sunny day!
We actually, finally got up to Main Street to check out some venues and happenings. They have this sweet Music Cafe set up which has multiple artists for the ten days of the Fest…this year the Fray, Sass Jordan and LeAnne Rimes were some of the featured artists.
And if you are connected enough or working in the biz and can manage to get on one of the prestigious lists, you might get into a private film party or two! I went to a decent one last night and boy was the vodka aflowing! Absolut is one of the Festival sponsors and since its one of my favorites….Haahaahaaaaaa!!!!!
I was only able to get to one film yesterday, but it was worth it…and I got to work the Press Line again, and be a paparazzo! And the only reason I went to this movie was for my partner in crime, Karl, so I could get him pix of that Katie Holmes chick! So read on for the review!
The Extra Man
Kevin Kline is back in fine form in this comedy directed by Shari Springer Berman and Robert Pulcini of American Splendor fame. Kline plays Henry Harrison, an older eccentric man who just happens to be a male escort. He finds life to be an adventure and women beneath him. Along comes Louis Ives (played in ridiculously brilliance by Paul Dano) who answers an ad for a roommate that Kline's character has placed and the adventure begins. Also starring John C Reilly and Katie Holmes, this movie is a fun yet somewhat pathetic glimpse at the lives of these two different men, whose lives have joined on this crossroads.
Tune in tomorrow for more films!