Tsunami Warning in Hawaii, California and Alaska Also in Danger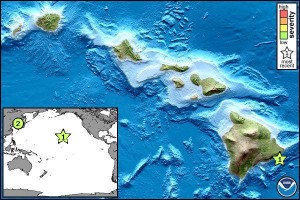 This afternoon, Hawaii is under a tsunami warning that could be damaging to the coastlines. The Pacific Tsunami Warning Center issued this warning on their website:
EVALUATION
A TSUNAMI HAS BEEN GENERATED THAT COULD CAUSE DAMAGE ALONG COASTLINES OF ALL ISLANDS IN THE STATE OF HAWAII. URGENT ACTION SHOULD BE TAKEN TO PROTECT LIVES AND PROPERTY.
A TSUNAMI IS A SERIES OF LONG OCEAN WAVES. EACH INDIVIDUAL WAVE CREST CAN LAST 5 TO 15 MINUTES OR MORE AND EXTENSIVELY FLOOD COASTAL AREAS. THE DANGER CAN CONTINUE FOR MANY HOURS AFTER THE INITIAL WAVE AS SUBSEQUENT WAVES ARRIVE. TSUNAMI WAVE HEIGHTS CANNOT BE PREDICTED AND THE FIRST WAVE MAY NOT BE THE LARGEST.
TSUNAMI WAVES EFFICIENTLY WRAP AROUND ISLANDS. ALL SHORES ARE AT RISK NO MATTER WHICH DIRECTION THEY FACE. THE TROUGH OF A TSUNAMI WAVE MAY TEMPORARILY EXPOSE THE SEAFLOOR BUT THE AREA WILL QUICKLY FLOOD AGAIN. EXTREMELY STRONG AND UNUSUAL NEARSHORE CURRENTS CAN ACCOMPANY A TSUNAMI. DEBRIS PICKED UP AND CARRIED BY A TSUNAMI AMPLIFIES ITS DESTRUCTIVE POWER. SIMULTANEOUS HIGH TIDES OR HIGH SURF CAN SIGNIFICANTLY INCREASE THE TSUNAMI HAZARD.THE ESTIMATED ARRIVAL TIME IN HAWAII OF THE FIRST TSUNAMI WAVE IS
1119 AM HST SAT 27 FEB 2010
California and Alaska are now also under advisory for a tsunami, but it is only a low alert at the moment.