Gatorade Drops Tiger Woods From Advertising Partnership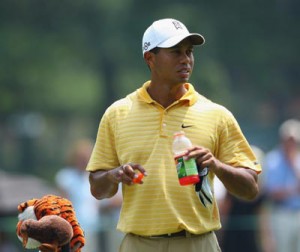 It was only in back in October of 2007 that Gatorade and Tiger Woods decided to team up. This marked their first ever licensing deal with a professional athlete. But it looks like Tiger won't be pushing their electrolytes any time soon.
Gatorade announced, "We no longer see a role for Tiger in our marketing efforts. . . . However, our partnership with the Tiger Woods Foundation will continue. We wish him all the best."
When Tiger first signed on for the promotion with Gatorade he said, "Gatorade has been part of my game plan for years, whether I'm training or competing, so this is an ideal match… Gatorade is a winning brand with a proven formula and the science to back it up. That's why I wanted to partner with them. I'm eager to launch my first signature."
It will be interesting to see when he returns to golf, whenever that may be, if he still is drinking a Gatorade as a part of his "game plan." I am willing to bet that Vitamin Water or another drink company takes advantage of the situation. But it will still be hard, given Tiger's reputation.