Batman Defeats Superman, Detective Comics No. 27 Breaks New $1 Million Record Sale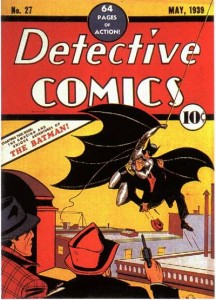 In a follow-up to our story earlier in the week, where the first Superman Comic (Action Comics No. 1) sold for $1 million dollars, it looks like Batman decided that he wasn't going to let Superman have all the glory.  Not even for a week.
On Thursday, spurred from the record breaking sale of "Action Comics No. 1" for $1 Million Dollars (breaking the previous record of only $317,000), the owner of a mint copy of Batman's first comic decided to take it to auction.  "Detective Comics No. 27," featuring the first appearance of Batman, broke the new record that was only set three days earlier – selling for a whopping $1,075,000 dollars!
Here is a video showcasing the comic book that sold, from Heritage Auctions:
The buyer of the rare comic, which features a six page introduction of "The Batman," has decided to remain anonymous. It will be interesting to see what other rare comics come out of the woodwork after this.