STONE Opens October 22nd! Enter to Win Passes to the St. Louis Advance Screening!
STONE OPENS OCTOBER 22nd NATIONWIDE.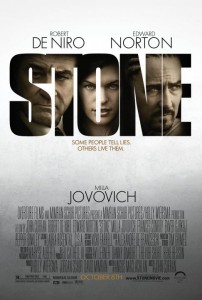 Enter for your chance to win a pass, good for two!
Synopsis:
Academy Award® winner Robert De Niro and Oscar® nominee Edward Norton deliver powerful performances as a seasoned corrections official and a scheming inmate whose lives become dangerously intertwined in Stone, a thought-provoking drama directed by John Curran (The Painted Veil, We Don't Live Here Anymore) and written by Angus McLachlan (Junebug). As parole officer Jack Mabry (De Niro) counts the days toward a quiet retirement, he is asked to review the case of Gerald "Stone" Creeson (Norton), in prison for covering up the murder of his grandparents with a fire. Now eligible for early release, Stone needs to convince Jack he has reformed, but his attempts to influence the older man's decision have profound and unexpected effects on them both. Stone skillfully weaves together the parallel journeys of two men grappling with dark impulses, as the line between lawman and lawbreaker becomes precariously thin. The film's superb ensemble features Milla Jovovich (The Fifth Element) as Lucetta, Stone's sexy, casually amoral wife, and Golden Globe® winner Frances Conroy (Six Feet Under) as Madylyn, Jack's devout, long-suffering spouse. Set against the quiet desperation of economically ravaged suburban Detroit and the stifling brutality of a maximum security prison, this tale of passion, betrayal and corruption examines the fractured lives of two volatile men breaking from their troubled pasts to face uncertain futures.
In order to enter the contest, become a fan of ReviewSTL on Facebook and suggest ReviewSTL.com to all your friends (click the "suggest to friends" link on the left side of the page). Then post a comment on the ReviewSTL fan page telling us why you want to see the movie! NO PURCHASE NECESSARY. PLEASE REMEMBER TO READ THE RULES!
SCREENING IS THURSDAY, OCTOBER 21st at Weherenberg Ronnies 20.
Good luck! We hope to see you at the movies!