Keith Richards Reprising Captain Teague in "Pirates of the Caribbean: On Stranger Tides"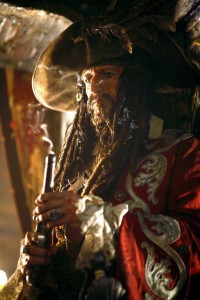 Pirates of the Caribbean: On Stranger Tides may not have the return of Kiera Knightley or Orlando Bloom, but it will see the return of Rolling Stones' Keith Richards as the father of Johnny Depp's Jack Sparrow.
In a recent article about Richards' upcoming biography Reuters mentions that Richards and Depp "are currently shooting the fourth Pirates installment, where Richards reprises his role as Sparrow's father."
For those who don't know, Depp based his performance of Captain Jack Sparrow on the aging rocker. So, when the films called for Sparrow's father to be portrayed, who else would be better for the part, then the man the character is based on.
The highlight of the article for me is:
Richards is similarly frank about other big names. He said he had long failed to recognize Depp when the Oscar-nominated star had been hanging out with his son for two years.

"Then one day he was at dinner, and I'm like, 'Whoa!' Scissorhands!"
Pure gold.
What do you think of this news? Let us know in the comments!