"Sopranos" Creator David Chase Casts New Rock n' Roll Film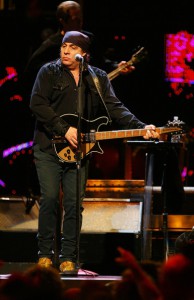 David Chase has begun casting his new coming-of-age rock-n-role film, with a mix of experience and a handful of talented newcomers. Making the biggest splash is his reunion with Sopranos cast member, and Bruce Springsteen band member Steven Van Zandt as part of the production.
So, who are all these newcomers? Jack Huston (Jack Huston's Twilight Interview), the nephew of Danny and Angelica Huston, is probably the most recognizable of the bunch, having just appeared in the latest installment of the Twilight Saga, Eclipse. Joining him is John Margaro, who has appeared in films like The Box, The Brave One, and The Life Before Her Eyes. Filling out the rest of the current cast is newcomer Will Brill.
The story follows there young musicians, as they try to navigate their band, The Twilight Zones, through the music scene of the 1960s. Van Zandt is aboard as executive producer, and music consultant.
"I am thrilled to be working with Steven again, especially on this particular subject," said Chase to The Playlist. "It's not just that we both worship the same songs and bands from the era, it's that he obviously knows so much. About every aspect. He embodies a particular spirit of a particular kind of rock 'n' roll. He actually is that spirit."
This is Chase's triumphant return back into the world of media, since his hit HBO show The Sopranos ended in 2007. Are you excited to see his return? Let us know in the comments!