"Happy Days" Actor Tom Bosley Dead at Age 83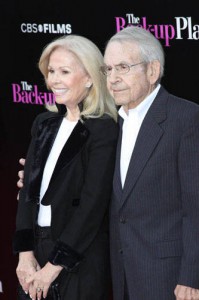 Actor Tom Bosley best known for his role of Mr. C on Happy Days succumbed to a battle with lung cancer on October 19th, at the age of 83.  The actor died of heart failure, due to complications from his battle with lung cancer, at a hospital close to his Palm Springs home.
"Tom's insight, talent, strength of character and comic timing made him a vital central figure in the 'Happy Days' experience. A great father and husband, and a wonderful artist, Tom led by example, and made us all laugh while he was doing it," said a statement from director Ron Howard, who played Bosley's son on Happy Days.
"Since day one of 'Happy Days,' we as a cast have remained so wonderfully connected. He was our TV dad and a real life father-figure for the past 33 years," Henry Winkler said in a statement to Access Hollywood. "He will be sorely missed. And our most positive thoughts go out to the family."
In addition to his well known stint on Happy Days, Bosley also was a Tony Award winning stage actor, for his role in Fiorello!. His next famous role was probably his role as heriff Amos Tucker, who acted as a foil to Angela Lansbury's character on Murder She Wrote.
In lieu of flowers, Bosley's family asks that donations be made to the American Cancer Society.