Stone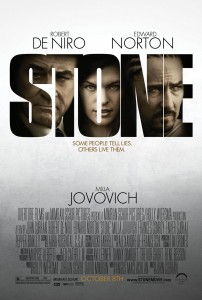 After seeing the trailer for Stone I had a hard time believing that a relationship could develop between Milla Jovovich and Robert DeNiro.  I wasn't dying to see the film, but ever since I saw Edward Norton in The Score (personal favorite) I get intrigued to see what he is up to.  I left the theater with the same attitude I had walking in: Edward Norton is one of the best actors working today that has not won an Oscar.
Parole officer Jack Mabry (Robert De Niro) has only a few weeks left before retirement and wishes to finish out the cases he's been assigned. One such case is that of Gerald "Stone" Creeson (Edward Norton), a convicted arsonist who is up for parole. Jack is initially reluctant to indulge Stone in the coarse banter he wishes to pursue and feels little sympathy for the prisoner's pleads for an early release. Seeing little hope in convincing Jack himself, Stone arranges for his wife Lucetta (Milla Jovovich) to seduce the officer, but motives and intentions steadily blur amidst the passions and buried secrets of the corrupted players in this deadly game of deception.
I have two glaring issues with Stone.  First, I feel that Mabry seems like a smart enough guy that he wouldn't fall for something like this.  He knows that he is almost done so why would he make a stupid move like this to screw everything up?  It only leads to my initial qualm which is that I could not buy the relationship that Jack and Lucetta developed.  My other big issue is that none of the characters are ones that you want to get behind.  I understand this was the point of the story to get the audience to question who is good and who is bad, but it makes for an ugly film to watch.
Now for the shining light of the film.  All of the performances are done very well, but the moment Norton sits down and begins to speak I was just mesmerized.  From the accent to the mannerisms, this was a real person that was played to perfection.  As a convict who committed a heinous crime, you don't want to like the guy, be he was the only character in the movie that I wanted to continue to watch.
Stone is a movie that wants you to talk about it all the way out of the theater, but for me it was just forgettable.  While it may be interesting to watch and think who are the real good guys in this film, there are much better films that have played on this theme.  Norton is at the top of his game in this, but it is not worth the price of admission to sit through the rest.
I give Stone a D.