"Star Wars: Return of the Jedi" Deleted Scene: Luke Skywalker Builds Green Lightsaber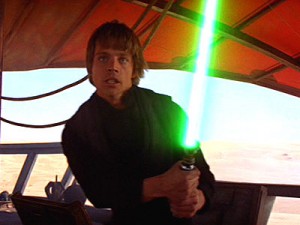 The geek inside of me died a little bit this past weekend. Why? Well, because I could not afford to attend Star Wars Celebration V. Due to some late notice on press credentials, it just didn't happen. Luckily, in this day and age everything hits the internet pretty quickly. So, when George Lucas showed off some of the deleted scenes from the original trilogy, someone was nice enough to record it and put it up on the internet for us.
The scene features Darth Vader and Luke's connection as he builds his famous green lightsaber that he wields in Return of the Jedi. The scene, which is featured in the novelization of the film, never made it to the big screen.
Take a look at it below and let us know what you think!
[hdplay id=132 width=595 height=375]