George Lucas Announces "Star Wars" Trilogies Out on Blu-Ray Fall 2011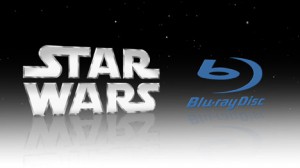 Speculation has been high as to when George Lucas would finally release his famous Star Wars films on the popular HD format, Blu-Ray. This weekend at Star Wars Celebration V, he told a packed crowd in Orlando, "I wish I could say it's coming out this year, but it's coming out next year."
"They'll be different kinds of additional material," Lucas said, "I think you've seen enough behind the scenes [material] for a lifetime. There's some really good material that will be included in there, [including] more deleted scenes that you haven't seen yet."
Mark Hamill came on stage during the panel to present a deleted scene of his character, Luke Skywalker, building his famous green lightsaber. (View the clip here.) Joining the panel also, were The Daily Show's Jon Stewart as host, and Carrie Fisher came to the panel as well.
The discs are set for a Fall 2011 release date.
The bad news in all of this is that the Blu-rays will feature only the special editions of the film.  "You have to go through and do a whole restoration on it, and you have to do that digitally," Lucas told the NY Times.  "It's a very, very expensive process to do it. So when we did the transfer to digital, we only transferred really the upgraded version… Unfortunately, the recent releases get priority over what we call the classic versions of things."
I'm not quite sure I believe that. I don't doubt that it would be an expensive process, but the majority of the film is untouched, except for a few scenes that had added material. He only has to restore a small portion of the film. Plus, didn't they just digitally remaster all of the original versions a few years ago for DVD? I could have sworn they said they were HD masters at one point.
I've always been a bit amazed at how long Lucas has taken to release the movies on new formats. Lucas himself is a pioneer with new technology in the film world, and continues to tout digital filmmaking as the future. However, it took him a long time to release the Star Wars films on the already popular DVD format.  It looks like he is getting an earlier jump this time around. It still seems to me that he doesn't quite embrace new consumer technology as well.
What do you think? Is the wait on this all about the bottom dollar? Let us know in the comments!