St. Louis Cardinals Win World Series Game 6. Ten Down, One to Go.
There comes a point in time where words are simply insufficient.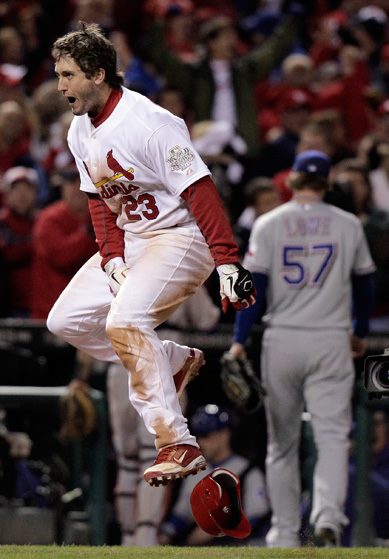 There are things in nature you just can't describe. How do you describe something's color? With another color. Well, how do you describe that color? And so on.
This game started off with the makings of possibly the worst, least climactic World Series clincher ever.
As each inning went on, I couldn't help but shake my head. Holliday's bungling of a pop fly. Freese's one-handed attempt to catch the fly. Salas' wild throw into center field. Holliday's lazy amble back to third with the bases loaded and the Cardinals rallying.
Down 7-4.
This game.
I watched the game with my lovely friend Liz and her mom, and we were hanging on with every pitch. There was much laughter, some sadness, and I think at one point I passed out because I was holding my breath for too long.
Sidenote, the umpiring, after taking heavy doses of criticism this series, was pretty much spot on. Jerry Layne deserves props for having a keen eye and calling Lance Berkman safe at first in the fourth inning. The zone was never too large or small, consistent enough that few hitters were thrown for a shock (save Albert Pujols).
If you were in a coma for the first five months of the season, just watch the last four innings of the game, and you'll get a perfect capsule of the Cardinals' season. Few things in life are more dangerous than an animal with its back against the wall and nothing to lose. Few words could better describe this Cardinals team the last two months.
Jon Jay, 0 for 16 this World Series, benched for his inefficiency, coming through with hits in his two final at bats of the game.
Allen Craig, who started as the designated hitter when the Series was in Texas, coming in for Holliday and immediately launching a home run into left field. The bomb cut the deficit to two runs, putting the team within striking distance in the eighth.
Daniel Descalso, who hit .264 during the regular season, going 2 for 2 and scoring the run in the 10th that pulled the team to within one run.
Jake Westbrook, whose ineffective regular season eliminated him as a starter during the World Series, coming into the game in the top of the 11th and doing what the much-vaunted bullpen couldn't do: hold the Rangers to a goose egg.
Albert Pujols, having a rough evening at the plate (and, other than game 3, a rough World Series; not counting game 3 he'd gone 0 for 16), coming to bat in the bottom of the 9th, in what was possibly his final at bat as a Cardinal in Busch Stadium, coming through with a double to left-center. Once this season's over, I'll post a full article with my thoughts on Albert.
For now, though, this night belonged to David Freese. After the error, he didn't have too many fans in the stadium. 0 for 3 with a strikeout heading into the bottom of the 9th, one had to wonder whether his confidence was shot.
Down two, two outs, two strikes on him, facing one of the best closers in the American League, what does he do? Line one opposite field over Nelson Cruz's oustretched glove. Bam.
Tie game, bottom of the 11th, nobody on, with a chance to win the game, what does he do? Lofts one to dead center, the deepest part of the ballfield.
The ball dropped in the grass in front of the batter's eye.
St. Louis, on the other hand, still hasn't come down.
Funny story, my buddy Nick and I were actually anticipating a walk-off home run. Both of us being fans of baseball history, neither of us let it slip from our mind Jim Edmonds' walk-off home run in game 6 of the NLCS in 2004.
Nick (10:20am): Thats possible, i'm hoping for a walkoff, edmonds style
Tonight, as the Cardinals rallied to head to extra innings, I texted him back:
Another game 6 x [extra] inning walkoff?
Then, to see it.
My words fail me. Fortunately, they didn't for others.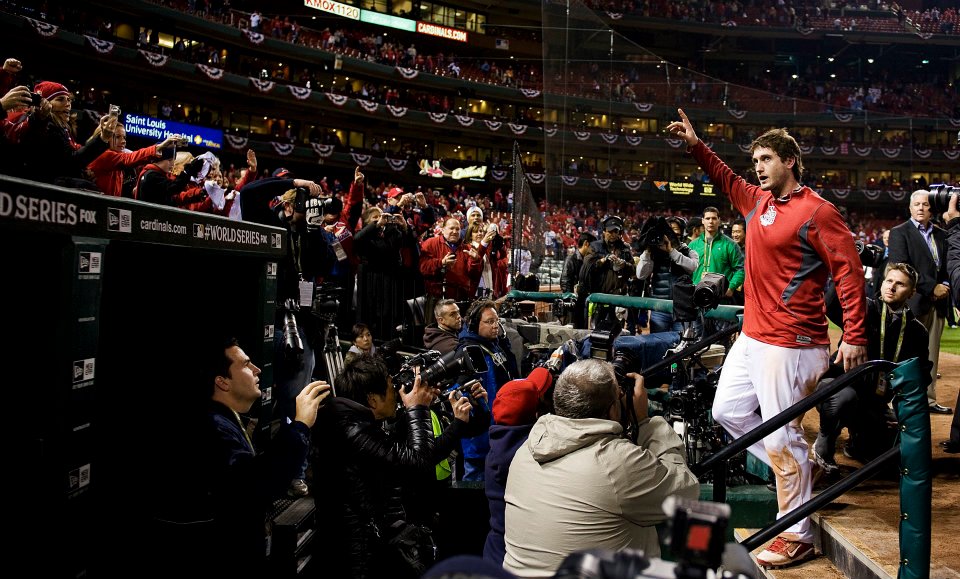 Flash back to October 26, 1991, as the Twins were hosting the Atlanta Braves. Down 3-2 in the series, the game was tied going into the bottom of the 11th. As if on cue, Kirby Puckett launched a Charlie Liebrandt pitch over the left-center field wall, prompting broadcaster Jack Buck to close with "And we'll see you tomorrow night!"
Forward 20 years and one night. As a delirious St. Louis crowd raised its fists in the cool autumn night, yet another element of the World Series that has taken a lot of criticism earned some redemption. We were screaming at the television, but six words sent utter chills down my spine.
For 20 years and one night after his father uttered those elated words, after a game that had more ups and downs than a Vegas escort earning rent money, Joe Buck sent 47,325 fans home happy with one sentence.
"We will see you tomorrow night."