Movie Review: 'The Rum Diary' Starring Johnny Depp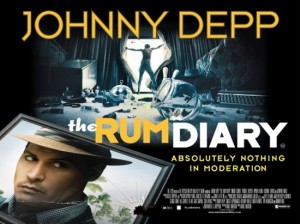 Novels and biographies are often very hard to translate to film. A semi-autobiographical novel must be doubly hard. The Rum Diary is just that. Dramatized from his personal experiences in Puerto Rico, Hunter S. Thompson's The Rum Diary struggles as a result of poor page-to-film conversion.
Johnny Depp stars as the Thompson character, Paul Kemp. Kemp, a failed novelist arrives in Puerto Rico to try his hand at a newspaper. Kemp soon finds himself drowning in alcohol whilst mixed up with a myriad of oddball characters. His character is tested as he struggles to define his role amongst a failing newspaper and a political scandal.
While the mood and tone of the film fit Hunter S. Thompson's signature feel, the film just doesn't work as a compelling narrative. Its lack of a three act structure keeps any of the film's major set pieces from having any weight. While a novel can take its time to meander from character to character and from story to story, a film works best when it's focused. The Rum Diary lacks a general focus. While the characters are well defined and serve to showcase amazing acting talent, the multiple subplots keep the audience from engaging with any one particular part of the film.
Johnny Depp carries over some elements of his role as Jack Sparrow, but the show is essentially stolen by Giovanni Ribisi. As an actor who is known for choosing flamboyant characters, Ribisi's role in The Rum Diary is perhaps the "loudest" performances of his career. Aaron Eckhart and Richard Jenkins give solid performances, but Amber Heard illuminates every scene she is in.
There is enough of the Hunter S. Thompson flavor in this film to please fans, but for mainstream audiences wanting to see the newest Johnny Depp movie, it will probably be a hard sell.
Worth Your Money
-Not Worth Your Money-
Worth Somebody Else's Money