Clear Eyes, Full Hearts, Can't Lose: St. Louis Cardinals Win World Series
Sorry, Friday Night Lights. I'm borrowing your line.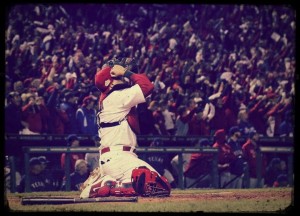 People tend to overuse superlatives to the point that they become hyperbole.
Greatest ever. Best ever. Most incredible. Blah blah blah.
The problem is, I don't know how else to describe the last two months of baseball.
When the Cardinals woke up on August 25, they had 32 games left to overcome a 10.5 game deficit. Sure, that might seem feasible looking at those numbers. Put that into perspective, though. They trailed the Atlanta Braves, who were 78-53 at that point. If the Braves split the rest of the season and went 16-15 the rest of the way, the Cardinals would have had to go 28-4 to clinch the Wild Card.
Somewhere, though, the baseball gods were smiling down on this team. The Braves didn't just stumble, they managed one of the all-time choke jobs, going 11-20 the rest of the way. This allowed the Cardinals, who went 23-9, to clinch on the final day of the season, which was perhaps the greatest single day of regular season ball yet in the history of the game.
Four games decided four different playoff spots.
The Cardinals beat Houston.
Atlanta lost to Philadelphia.
Boston was leading Baltimore, but after a rain delay, choked that away. Within minutes of that game ending, Evan Longoria hit a walk-off against the Yankees to secure their berth ahead of Boston, who managed their own historic choke job.
Once in, the Cardinals took on the Philadelphia Phillies, which the media had already crowned the World Series Champs; these trivial things called games are just formalities, after all, when ESPN and Sports Illustrated's experts weigh in. Philadelphia's top four in their rotation (Roy Halladay, Cliff Lee, Cole Hamels, Roy Oswalt) were too good for any other team to match up with. After all, as the old adage goes, good pitching beats good hitting.
Except the Cardinals refused to bow down. The teams traded wins back and forth the first two games until the deciding game, when Chris Carpenter pitched the game of his life, outdueling Halladay 1-0 in what is sure to be mentioned among the top post-season pitching matchups in history (certainly not the top, but perhaps a top 5).
After that, the Cardinals faced the Milwaukee Brewers, who've come to become one of the Cardinals' bitter rivals. This isn't a rivalry borne of mutual respect, like the Astros in the 2000's; this is a rivalry bred from animosity. Nyjer Morgan and his incessant tweets. Zack Greinke telling the world nobody likes Chris Carpenter, blah blah blah. Sorry, Zack. I'm a fan of yours, and I applaud your coming back from your struggles to win the Cy Young, but I'll take Carpenter's intensity and determination any time. There seemed to be another fierce Cardinals pitcher a few years back that didn't get along with opposing teams, yet was lights out in the playoffs. Bob something.
The Cardinals, on the other hand, took the high road. They let their bats do the talking. Six games later, Nyjer Morgan/T Plush/whatever else he calls himself suddenly had a lot more time to tweet.
Of all the teams in the American League, the one team I respected the most was the Texas Rangers. They had solid pitching, an absolute beast of a lineup, and on top of that, they're one of the top fielding teams in the majors. The turnaround the Rangers' ownership has made in two years is nothing short of astonishing. Nolan Ryan and his ownership group have turned a franchise riddled with bad contracts in recent years and turned them into a winning franchise. I loved last year when Nolan Ryan found out Tom Hicks (the previous owner) was trying to charge extra for playoff parking. What'd Nolan do? He personally refunded people the difference and promised it wouldn't happen again. Class.
There's a lot to like about the Rangers. They play hard and were classy. Some people might not have been a fan of Ron Washington's enthusiasm, but he loves the game. He cheered from the dugout, doing what we fans do at the bar. Ian Kinsler played baseball at Mizzou.
Note: At least one non-playing member of the Rangers organization has a St. Louis connection. The hitting coach, Scott Coolbaugh, is a former baseball player who finished his major league playing career with the St. Louis Cardinals in 1994. His brother, Mike Coolbaugh, also had his last major league at-bat with the St. Louis Cardinals in 2002. In case you noticed that in recent years the first and third base coaches now wear batting helmets, it's due to Mike Coolbaugh. Coaching first base for the Colorado Rockies AA team in 2007, he was struck by a line drive during a game that crushed an artery and died en route to the hospital. In a separate classy move, the Rockies voted his wife and children a full World Series share that year, roughly $230,000.
This was a World Series that can't be identified with just one Cardinal. This was truly a team effort.
Albert Pujols, in an otherwise mediocre series, had easily the greatest single game performance in World Series history in game 3. Other players have had six RBI, three HR, and five hits, but not all in one game. Nobody's had 14 total bases in one World Series game. Even though he struggled the rest of the series, the Rangers intentionally walked him in potentially high-leverage situations. He still finished the series hitting .240/.424/.640 with 3 HR and 6 RBI.
What about Lance Berkman? After a decade of playing in relative obscurity (compared to superstars in the big markets), he finally won his first World Series. Had Freese not come through with that two-run double in the first in game 7, there's a chance Berkman would have been named MVP. He hit the tying single in the 10th inning of game 6, and he was by far the Cardinals' best overall hitter in the series. He hit .423/.516/.577 with a home run and 5 RBI.
What about Allen Craig? He found himself squeezed to make space for Matt Holliday, but he still hit 3 HR and drove in 5. He hit the game-winning home run last night and also robbed Nelson Cruz of a potential home run.
What about Chris Carpenter? After game 6 got pushed back, you just knew he was going to get the ball for game 7, didn't you? Pitchers want the ball in games like these. Carpenter already passed Bob Gibson for most post-season wins (although all of Gibson's wins were in the World Series before the league started LDS and LCS play). He pitched in three games and could have easily won all three. He settled for bookending his wins in games 1 and 7. For the series, he was 2-0 with a 2.84 ERA and 13 strikeouts in 19 innings.
What about Yadier Molina? Most people may not even realize this, but he led the Cardinals in RBI in the World Series. Yadier got off to a slow start in the playoffs, but he eventually found his groove and came up with hit after hit. He ended up hitting .333/.414/.417 with 9 RBI. He also held a Ranger lineup that loved to steal bases (143 in the regular season, good for fourth in the AL) to one stolen base in game 2.
This series, though, belonged to David Freese. Everyone knows his story. In game 6, after he dropped the pop-up, he went on an absolute tear. Starting in the bottom of the ninth, in the span of three at bats, Freese went 3 for 3 with a double, a triple, a home run, and 5 RBI. Overall, he hit .348/.464/.696 with 7 RBI and one home run, albeit one that will join the pantheon of great recent Cardinals post-season home runs alongside Edmonds in the '04 NLCS, Pujols in the '05 NLCS, and Yadier in the '06 NLCS. Freese drove in 21 runs, a new post-season record.
So much more could be written about this team. So much more will. The Cardinals face several questions heading into the off-season. Will Pujols re-sign? How much of a raise does Freese get? What about…
Wait.
That can wait.
That's all about the real world. I want everyone who reads this, all ten of you, to take a snapshot of what just happened. You're all on Facebook or Twitter, I'm sure. Look at the statuses. The unity of this city. For a month, all the hatred, the anger, the polemical discussions, the political debates, the pettiness…it all disappeared. This team brought a city together, united in its vision. I wrote an article a while ago about why the players play the game. This is why we follow. We share in the heartbreak, the tragedy, but also the feel-good stories, the celebrations, the victory. This team gave us a reason to believe, and for the first time in a long time, people are proud to call themselves St. Louisans.
Yes, reality can wait a day or two.
After all, we've been living in a dream the last month. What's one more weekend?
In hindsight, I should have amended my title of this post.
Clear Eyes.
Full Hearts.
Didn't Lose.