St. Louis Blues Sign David Perron to Two Year $4.3 Million Contract Extension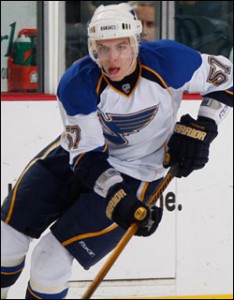 St. Louis Blues fans can breathe another sigh of relief, they have successfully signed another one of their restricted free agents. This time it was forward David Perron to which the Blues signed a $4.3 million dollar contract extension.
"David has proven to be a key forward on our club and we look forward to his continued development with us," said Blues General Manager Doug Armstrong. "We are expecting David to grow into a complete player at this level."
The 22-year-old forward shined last year with the Blues, accumulating 47 points with the team in 82 games. The young forward also had a goal of the year performance against the New York Islanders. (Watch the video here.)
Perron has the potential to be a top tier goal scorer in the league, and the St. Louis Blues did a great job of signing him to manageable contract size. The two year deal for $4.3 will be paid out $1.8 million and $2.5 million next 2 years. This is much less than what has been rumored among many fans. A week ago if you had gone to any message board that frequents Blues fans, you would have heard talk about contracts in the $3-4 million range.
What you see here is a short contract range where Perron gets paid a solid amount, but if he works hard it could add up to a much bigger contract at the end of two years. The situation is a win-win for both parties. The Blues don't have to invest as much, and if Perron maintains the kinds of numbers he has currently, they have gotten a rock solid deal. If, however, Perron turns out to be the real deal, he could be managing a much bigger contract after two years.
"I love playing in St. Louis and in front of our fans," said Perron. "For the past three seasons they have treated me great and I can't wait for the season to start."
I like other St. Louis fans am glad to hear about this deal, and I am now patiently waiting to hear the deal we are giving our young defenseman Erik Johnson.