So You Think You Can Dance Recap and Results from 7/30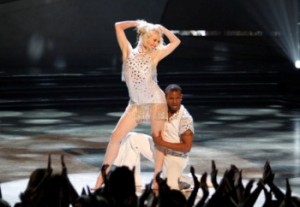 It's the penultimate week of So You Think You Can Dance Season 5. Can you believe it?! The four dancers continuing on after this week will be in the finale vying for the title of "America's Favorite Dancer."
Cat introduced the show in a purple Balenciaga dress with a Mulberry cuff and Dsquared shoes. Joining Mary Murphy and Nigel Lythgoe on the judges' panel this week is Lil C.
Kicking off the show was a group routine with the top guys. Ade, Brandon, and Evan met up with Sonya Tayeh to learn jazz choreography. Sonya explained that the dance has a "Willy Wonka-esque" feel to it. Dancing to "True Romance" by She Wants Revenge, the boys tackled Sonya's very grounded and staccato movements. There was even some partner work involved in the routine. Lil C said it was "a low key fantasy of mine to get Ade and Brandon in the same routine." He admired that Brandon is such a dedicated dancer. Weeks ago, Lil C stated that Ade is the one to watch out for, and Lil C still believes that. As for Evan, Lil C was impressed he didn't get swallowed by Brandon and Ade, but rather stayed very visible throughout the whole routine. Mary loved the routine and how all three dancers could kick their leg up to the same height and remain in sync during their standing back flip. Nigel thought "Evan stood out tonight because I've never seen him attempt stuff like this." He said that Ade, Brandon, and Evan have achieved things in dance that people haven't been able to do on the show in the previous seasons.
The girls picked their partners out of the hat this week, and Jeanine got Ade. They were excited to work together. Jeanine loves his strength and says their good friends, and Ade admires Jeanine's personality. The new couple met with Louis van Amstel to take on the samba. Louis mentions that this dance won't necessarily be your traditional samba. Dancing to "LoveGame" by Lady Gaga (not a traditional samba song!), Jeanine and Ade shook it on the dance floor and threw in some impressive moves. Mary thought the first 15 seconds of the dance were extremely incredible, but that the routine started to fall apart during the samba choreography. Lil C thought Jeanine looked amazing, but Ade was frolicking during the dance. He needs to get down during the samba. Nigel advised Ade to change his style with each routine, and he also thought Jeanine looked absolutely beautiful and did everything with confidence. "You went for it and you look great," Nigel said to Jeanine.
Kayla kicked off the night's solos to "You Found Me" by The Fray. She showed off her great lines, leaps, and twirls.
| Style of Dance | Choreographers | Song Titles | Artist | Performers |
| --- | --- | --- | --- | --- |
| Hip Hop | Tabitha & Napoleon Dumo | Move (If You Wanna) | MIMS | Jeanine & Ade |
| Samba | Louis van Amstel | LoveGame | Lady Gaga | Jeanine & Ade |
| Broadway | Tyce Diorio | Get Me To The Church On Time (from My Fair Lady) | Matt Dusk | Melissa & Evan |
| Quickstep | Louis van Amstel | As Long As I'm Singin' | The Brian Setzer Orchestra | Melissa & Evan |
| Contemporary | Stacey Tookey | All I Want | Ahn Trio with guest vocalist Susie Suh | Kayla & Brandon |
| Disco | Doriana Sanchez | Dance (Disco Heat) | Sylvester | Kayla & Brandon |
| Jazz | Sonya Tayeh | Kick It (Stereoheroes Remix) | Nina Martine | Top 3 girls |
| Jazz | Sonya Tayeh | True Romance | She Wants Revenge | Top 3 boys |
| Freestyle Solo | Ade | 18th Floor Balcony | Blue October | Ade |
| Freestyle Solo | Brandon | O'Fortuna (from Carmina Burana) | Mozarteum Orchestra Salzburg & Kurt Prestel | Brandon |
| Freestyle Solo | Evan | Lady Is A Tramp | Sammy Davis Jr. | Evan |
| Freestyle Solo | Jeanine | Feedback | Janet Jackson | Jeanine |
| Freestyle Solo | Kayla | You Found Me | The Fray | Kayla |
| Freestyle Solo | Melissa | I Put A Spell On You | Nina Simone | Melissa |
Melissa picked Evan's name out of a hat. The height difference comes into play again, with Evan being a little shorter than Melissa. The pair met up with Tyce Diorio to learn a Broadway routine. Tyce explained that this dance is about a nervous groom who overslept and has to face his blushing bride. Evan said this is his kind of Broadway choreography and is what he does best because it's focused on big personalities and facial expressions. Performing to "Get Me To The Church On Time (from My Fair Lady)" by Matt Dusk, Melissa and Evan put on a fun show in their wedding day undergarments. Lil C thought the couple danced well, but also thought that they should have aimed for excellence instead of just being good. Mary announced, "Get me to the church on time? This could be get me to the finale on time!" She enjoyed seeing Evan dance in his own style, and thought that Melissa really came to life. As Nigel auditions people for Season 6 of SYTYCD, he has observed that "Melissa has been inspirational to a lot of ballerinas," but none of them can adapt to different styles as well as Melissa. Nigel also thought Evan brought enough to the routine.
The next solo came from Ade, who danced to "18th Floor Balcony" by Blue October. He showed his strength and ability to move during the allotted 30 seconds.
Kayla and Brandon were obviously the last remaining dancers to pair up. They were excited to partner each other, and Brandon wants to join Kayla on the Hot Tamale Train. The duo met with Canadian choreographer Stacey Tookey, who choreographed a brilliant contemporary routine earlier this season. Stacey mentioned that the theme of Kayla and Brandon's contemporary routine is about the mistress of a married man. Taking the stage to "All I Want" by Ahn Trio ft Susie Suh, Brandon and Kayla executed the dance brilliantly and really got into character. Lil C said, "That was really, really, really, intense, and beyond intense, it was beyond amazing." He believes that everyone Kayla's been paired with was at a disadvantage throughout the season because she outshines them, but this was the first time that she was with an equal match. Mary said that Brandon has been on the Hot Tamale Train and he's staying there. In addition to calling the dancing "brilliant," Mary said Brandon was under control and Kayla is "exquisite and has never taken a wrong step." Nigel said he's so glad to have Stacey Tookey as a star choreographer on SYTYCD USA after being a star choreographer on SYTYCD Canada. Although unsure if Kayla and Brandon had enough time to cement the chemistry needed to pull off the performance, Nigel said he couldn't ask for anything more from them in regards to technique.
Next, Melissa performed a solo to "I Put A Spell On You" by Nina Simone. Her dance was a mix of lyrical moves and on pointe ballet.
Ade and Jeanine were ready for their second performance together. Jeanine said being in the finale would be the most unanticipated success of her life, as she auditioned for the show on a whim. It would mean the world to Ade to make the finale. The couple met with Tabitha and Napoleon for a hip hop routine. This is Jeanine's third time and Ade's second time doing hip hop this season. Tabitha and Napoleon described this routine as being about friends who get evicted from their apartment. The choreography involves moving out and moving boxes around the stage. Jeanine and Ade took the stage and hip hopped to "Move (If You Wanna)" by MIMS. The duo mastered the human double dutch jump rope, and they also mastered Tabitha and Napoleon's "outside the box" choreography. Lil C was impressed with how well Jeanine and Ade danced. He appreciated Ade's dirty kind of groove and how that positively impacted his partner. Mary said Jeanine is terrific, and could see them in the finale, saying, "You two will not be getting your eviction notice after that performance!" Nigel said that it is easy to applaud a good routine and overlook dancers, but Jeanine and Ade "got down" and were absolutely fantastic.
Brandon performed his solo to "O'Fortuna (from Carmina Burana)" by Mozarteum Orchestra Salzburg & Kurt Prestel. When he finished his solo, he received a standing ovation from the judges. The judges don't normally comment on the solos from the Top 10 on, but Nigel said that was "one of the best solos we've ever seen on the show."
Evan and Melissa paired up again for their second routine as a couple. Melissa talked about being the oldest contestant ever on the show, and about how she was a classical ballerina who hadn't trained in other styles. Evan said he has to "bring it" because the finale is within his grasp. The pair met with Louis van Amstel to take on the "kiss of death"- the Quickstep! Not only did Louis help them with the choreography, he showed Melissa some tricks to create the illusion that Evan is taller than Melissa. The duo took the stage and danced the Quickstep to "As Long As I'm Singin" by The Brian Setzer Orchestra. Lil C commended Evan on dancing bigger than he ever has before. He thought Melissa looked and danced fabulously. Mary thought the Quickstep sections of the dance weren't as great as the lifts they pulled off. Nigel said Melissa is young and extremely talented.
Jeanine hopped on the stage to perform a solo to "Feedback" by Janet Jackson. She added some funky touches to her graceful solo.
The final solo of the evening was from Evan, who started off his solo with some impressive tumbling work. He performed to "Lady Is A Tramp" by Sammy Davis Jr.
Brandon admitted that being in the top 4 will help his confidence. Kayla said making it to the finale would mean everything to her. The duo met with Doriana Sanchez to learn disco choreography that Kayla compared to a circus act. Brandon and Kayla took the stage and danced a very fast and energetic disco routine to "Dance (Disco Heat)" by Sylvester. While still huffing and puffing, the dancers headed over to the judges. Lil C liked Kayla's little groove at the beginning and called Brandon a great partner. He called them both "extreme athletes." Mary said this dance was a "homerun tonight." She thought Kayla got her groove on and Brandon knocked it out of the ballpark, and kept them on the Hot Tamale train. Nigel got up from his chair and jumped and screamed and danced. "This is what the show is all about!" he exclaimed. He loved that this couple showed the diversity of contemporary to disco all in one night.
The last dance of the night was from the top three girls, who also met with Sonya Tayeh to learn choreography. Sonya mentioned that the theme of the dance is superheroes, and she gave each girl a superhero persona: Kayla is Storm, Jeanine is Wonderwoman, and Melissa is Buttercup. The girls compared the routine to running a marathon, and mentioned the importance of being in sync. Lil C thought the girls didn't go for the gusto and that they were being too courteous by not out-dancing one another. Mary said the girls are "the epitome of strong, versatile, flexible, sexy, talented dancers." She thought Kayla stood out because she was given some tougher moves to pull off. Nigel thought the three ladies looked fabulous in their costumes.
Tune in for the last elimination show before the finale. Which contestants will be dancing for the title of "America's Favorite Dancer" next week?
RESULTS
So You Think You Can Dance is down to the final 4,  after cutting Melissa Sandvig and Ade Obayomi.
The remaining contestants are: Jeanine Mason, Kayla Radomski, Evan Kasprzak, and Brandon Bryant.