Restaurant Review – Tigín Irish Pub

I Love Irish Pubs! Being part Irish, maybe it makes me feel like there's a bit of my ancestry in them. Potatoes, Corned Beef, Alcoholics, it's like I'm in Ireland. Really, I've been there, it's just like that. Tigín (a Gaelic word meaning small cottage) Irish Pub is located on Washington Ave., just down the street from the Convention Center. When walking in you won't even need to ask what type of restaurant you're in. There are Irish flags, Irish music, and if you time it right – some sort of Irish sport on the TVs.
Tigín has a great happy hour special, a bucket of Heineken and an appetizer for $18. I chose the Strongbow Cider, though. Mmm Cider Beer – this is a great, light choice if you aren't a big beer drinker, or if you just love cider beers. Of course, there are also the Irish classics like Smithwick's, Harp and the oh so famous Guinness – which apparently tasted better at Tigín's than anywhere else (says Steve).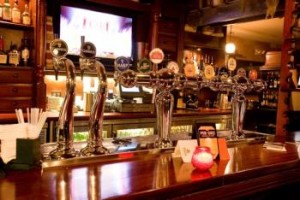 I ate a classic Corned Beef Sandwich. Cliché, yes, but it was delicious! Steve branched out and tried the Trinity Steak Boxty. Boxty is an Irish potato pancake (because they're known for getting creative with their potatoes…something about a famine?) This was like a pot roast on top of a really, really thin pancake (made of potato) with mushrooms and gravy and yes, I ate some of his it was that good.
If you're looking for an authentic Irish atmosphere, Tigín was the closest I've seen in St. Louis. Very dim lighting, a cozy fireplace; it had that Irish ambiance going for it. Wednesdays they have Pub Quiz night and Thursdays they have live music. They are also open very late – 2am Sunday – Thursday and 3am Friday-Saturday. My only complaint – the beers aren't cheap, but they're worth it! Check them out! www.tiginirishpub.com/stl.
About Tigín
Tigín is a Gaelic word meaning small cottage.
Inspired by the environment of the Irish cottage and its essential hearth, we've created something very special –encompassing both modern amenities and traditional values—a place for the traveler to find comfort.
Tigín is no novel invention. We're merely following a proud tradition that stems from laws that have governed Irish hospitality for five hundred years. Ancient Irish Law dictated hosts had to provide food, drink, a warm bed if possible, and entertainment.
Friendliness, humor, hospitality, fine Irish food and drink: all these combine to create the Tigin Irish Pub experience. When you want to meet with friends to share in good conversation, good food and good drink, Tigin Irish Pub is your place.
We are fanatical about pouring the best pint in town, St Patrick's Day, Mardi Gras, European Sports, Blues Hockey and generally having fun doing what we do.
So come on down, have a pint and be part of the family.
Slainte,
Iain Horne