Six Movies About Aging Artists, In Honor of 'Quartet' Opening Today in St. Louis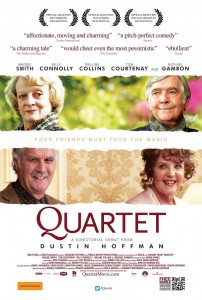 This week Quartet opens in theaters.  It marks the directorial debut of Dustin Hoffman and follows a group of retirees who are spending their autumn years in a home for musicians.  As they prepare for their annual show celebrating the birth of Verdi, a diva from their past arrives and upsets the balance.
While the film is amusing at times, it's something of a trifle and gets too bogged down with "the big show" in its last half hour.  But it got me thinking about other films that feature performers in their declining years.  So in honor of Quartet here are six movies about Aging Artists.
Sunset Blvd. (1950)
This is easily the most famous and best film on the list. Sunset Blvd. tells the story of Joe Gillis (William Holden) a floundering screenwriter who stumbles upon Norma Desmond (Gloria Swanson), a faded silent-film star who now lives as a recluse in her rapidly deteriorating Hollywood mansion. Realizing that he's a screenwriter, and drastically misjudging his clout in the industry, she enlists him to help write her comeback film.
Directed and co-written by Billy Wilder, it's an odd collection of film noir, black comedy and Hollywood inside-jokes.  Swanson, a faded silent-film star herself, is glorious; giving a hammy, over-the-top, scenery-chewing performance that is precisely what the role called for.   On paper, that hodgepodge of miscellanea should never congeal into a good film…let alone a great film.  But does it ever.
Young@Heart (2008)
A 2008 documentary about a chorus of senior-citizens.  Their average age is 80.  But instead of focusing on the WWII era music they instead perform songs by artists like James Brown, Jimmy Hendrix, Coldplay and Sonic Youth.
Sometimes the humor feels a bit forced as they veer into 70s era sitcom territory with jokes about geriatric sex and bladder control issues but it's ultimately a rather life-affirming vision of aging.  And if you can hold it together when an unexpected death forces them to retool a major number then you have a heart of stone.
The Sunshine Boys (1975)
George Burns and Walter Matthau star as aging vaudevillians who agree to reunite after twenty years.  There's just one problem…they can't stand each other.
While a major hit in its time, it's often overlooked today – dismissed as an elderly rehash of The Odd Couple.  And while there are similarities (both feature bickering friends largely confined to an apartment and are written by Neil Simon) the film probably deserves a larger place in history than that.  It features Simon's signature dialog and one-liners and his own history working with comedy legends on Your Show of Shows (arguably the strongest writing team ever assembled) serves him well here.
Today the film is best remembered for resurrecting the career of George Burns (he won an Oscar).  It had been 36-years since his last feature film and he barely got the role. Originally Red Skelton had been cast in the role that ended up going to Walter Matthau and Jack Benny in the role that would be played by Burns.  However, both were forced to withdraw – Benny due to the cancer that would take his life not long after and Skelton (presumably) because he felt the script was "too blue". Upon quitting the film, Benny recommended his old friend Burns for the role.
Frank & Ollie (1995)
A delightful documentary about the early days of the Disney Studio.  Frank Thomas and Ollie Johnston are animation legends having worked on Disney cartoons from Snow White and the Seven Dwarfs all the way through The Fox & the Hound.  Walt Disney once famously said, "I only hope that we don't lose sight of one thing – that it was all started by a mouse." Well, in this day and age of computer animation we'd do well to remember that it all started with a pencil. And these two were part of a team that painstakingly created entertainment that endures to this day.