Seann William Scott Joining Kevin Smith's "Hit Somebody"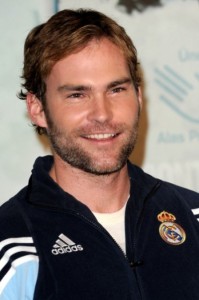 Sometimes it is nice to see an actor work with a certain director many times over their career. For some reason it makes me happy to know that some of these people aren't big enough jerks not to have friends. Seann William Scott looks like he will be joining up with Kevin Smith once again for Smith's hockey movie, Hit Somebody, based off of a Warren Zevon song.
The film will take place during the 70s in the WHA (World Hockey Association), and will most likely follow William's character who has more fighting skill than hockey smarts.
"I'm going for the 'Forest Gump' of sports movies, but not in terms of the visual effects, but it takes place through many different eras," Smith told ComingSoon.Net. "It starts in the '50s and ends in the '80s, and primarily it's a big Valentine to the game of hockey, and an even bigger Valentine to Canada. The whole movie is about the game and the land and how they're one and how only Canada can produce a hockey player. I've been a 'Canadaphile' for years now, and in terms of influence, it helps to have the writings of Stephen Brunt, the guy who wrote 'Gretzky's Tears' and 'Search for Bobby Orr,' stuff like that completely helps fill in the gaps for me not actually being Canadian."
If you don't know about the WHA, do a quick Wikipedia search. It is the league that combined with the NHL in the late 70s. The Edmonton Oilers were part of that deal,and Wayne Gretzky was one of the players that made his way to the NHL through the WHA. So what kind of hockey fan wouldn't love that?
Seann William Scott also talked to ComingSoon.net about the possibility of coming back for the American Pie reboot.  "I've been talking to them about it and there's a possibility. We came up with an awesome idea and I'm kind of at the point where I'm already known as that character forever anyways. As much as I want to do a part like Christoph Waltz in Inglourious Basterds, I did American Pie three times and then versions of that in ten other movies. If it makes sense and if it makes people laugh then maybe," said Scott.
I like that he is blatantly honest about his career. He knows he isn't an actor who is going to be pulling in big dramatic roles, but he knows he can make people laugh. So despite what you think about the guy, you can't help but respect him.