Betty White to Host SNL?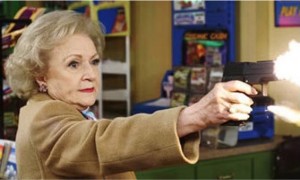 Michael Ausiello over at Entertainment Weekly is reporting that Lorne Michaels might be folding to the will of the masses. If you haven't seen it, there is a Facebook group called, "Betty White to host (please?)!" which at the time of posting currently stands at 428,530 fans.
According to Ausiello there is a catch to White hosting SNL, she would be doing it with a cast of other women as well, helping her c0-host. The people in talks to co-host it with her are SNL alums Tina Fey, Molly Shannon, and Amy Poehler. "I hear SNL is putting together a 'Women of Comedy' episode that would team the former Rose Nylund with several of her younger contemporaries. Ex-SNL MVP Molly Shannon is on board, I hear, and feelers have also been put out to Tina Fey and Amy Poehler," say Ausiello.
The fact that she isn't hosting it solo might upset people, but you have to remember the actress is 88 years old, and SNL is a very intense show that requires quick costume changes, and a lot of frantic backstage action. I think people would just be happy to see her do a monologue and a skit or two.
If it does happen, will it be the most viewed SNL of the decade? Or will it be another over hyped internet phenomenon?