Angelina Jolie and Jon Voight Reunite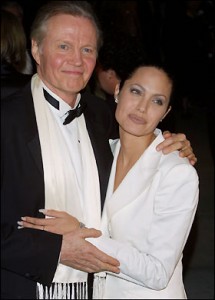 Angelina Jolie and father Jon Voight are reunited after almost a decade of estrangement. The father and daughter apparently patched things over while in Venice over the weekend. The two along with Jolie's partner Brad Pitt, and their children were photographed alongside Voight.
According to MSNBC Pitt was a big part of the reconciliation. "Since (Pitt and Jolie) have been together, Brad has been encouraging Angie to smooth things over with her dad," the source said. "And when it comes to the kids, Brad wants them to know their grandfather the way the kids know his parents."
Voight and Jolie became estranged in the late 90s, and things became heated when Voight came out publicly and said that his daughter had "mental problems".  Jolie went on to say that she wished to have no relationship with her father, going as far to legally drop Voight from her last name.
Jolie is currently in Venice filming on location for The Tourist co-starring Johnny Depp.