Scott Pilgrim vs. The World RoX0rs My Boxers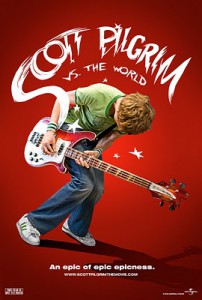 "Lower your expectations. That way you're never disappointed and sometimes you're pleasantly surprised."
Typically, this is the advice I give to my women. But sometimes I manage to apply it to other avenues in life.
I wasn't too sure what to expect of Scott Pilgrim vs. The World. I'd never even heard of the comic book series until one of my friends pointed me to the movie and told me a little bit about it. I was pretty skeptical, but tried to keep an open mind. As I sat down into the seats with my comely friend Jordan, we kinda held our collective breath.
About 45 seconds into the film, we let our breath out. Not because of the movie. We lack lung capacity.
The film centers around a character named Scott Pilgrim (Michael Cera), which is appropriate because the movie's named after him. Scott's the bassist for Sex Bob-Omb, a small local band. He's dating Knives Chau (Ellen Wong), but after meeting Ramona Flowers (Mary Elizabeth Winstead), he falls in love almost instantly and decides to pursue her. He then discovers that in order to date her, he has to defeat seven of her exes in combat. Along the way, he and Ramona learn more about each other, and ultimately, themselves. Awwww.
The premise sounds a little odd to the uninitiated, but so does the plot to 95% of all movies released today. Don't be fooled: this movie is hilarious. Edgar Wright, perhaps most famous for Shaun of the Dead and Hot Fuzz, does an absolutely remarkable job of  incorporating comic book elements into the film. The movie knows not to take itself seriously, and because of this, it succeeds.
In what seems to be a bit of a stretch for his acting skills, Cera does a fine job portraying an awkward yet likable guy. It's almost as if he's done this before. Mark Webber and Allison Pill turn in solid performances as the other members of the band; Pill particularly portrays the sarcastic Kim Pine well. Winstead is ridiculously pretty with short blue hair.
The actor who really stole the spotlight for me, however, was Kieran Culkin, who plays Wallace, Scott's gay roommate. Many of the funniest gags revolve around Culkin's character, and he plays them off perfectly.
Those of you expecting a sarcastic review, well, I don't really have one. This movie's definitely geared towards a younger crowd; many of the jokes and visuals will probably be lost on those over 40. Those of us who still have most of our teeth and hair, however, will like it, I think. From the audience reactions in the screening I went to, fans of the comic series loved it as well.
So if you're looking for a fun film to take a date to this weekend, check out Scott Pilgrim. It's not as sexy as The Expendables looks to be, but it's hilarious and sharp enough to provide a couple hours of entertainment.
Scott Pilgrim gets an A-.