Ryan Gosling Sells Red Leather Jacket from 'The Place Beyond the Pines' For Children's Charity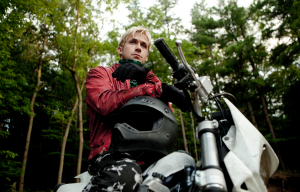 Ryan Gosling is a man of many jackets. The scorpion jacket he wore in Drive gained quite a bit of attention, and even got it's own officially licensed line by Steady. In his latest film, The Place Beyond the Pines, Gosling has yet another jacket that stands out in a crowd.
The red jacket that Gosling wears in Pines will be auctioned off by Profiles in History, with the proceeds benefiting Variety – The Children's Charity of Southern California. The prop is described as, "a Firstgear red leather motorcycle jacket with snap pockets at the front, black corduroy at the collar, zipper vents at both front and back with black leather in the vent, elastic at both cuffs and bottom, and zips to close."
I'm no motorcycle jacket expert, but it sounds quite fancy.
The Place Beyond the Pines reunites Gosling with Blue Valentine director Derek Cianfrance. The film tells the story of a motorcycle stunt man that turns to robbing banks to provide for his girlfriend and child. It co-stars Eva Mendes, Bradley Cooper and Ray Liotta.
Watch the trailer for The Place Beyond the Pines:
For more information, visit ThePlaceBeyondThePinesMovie.com.
In Theaters April 5