Movie Review: 'Drive' Starring Ryan Gosling, Bryan Cranston, and Carey Mulligan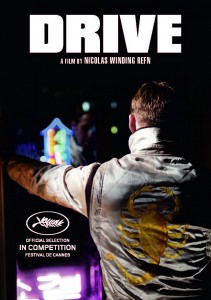 It isn't very often I go into a film, and it is something completely different than what I had imagined. Most of the times after seeing a trailer once, I get the general feel of a film, and I know what to expect going in. Nothing could have prepared me for Drive.
Ryan Gosling is the nameless "Driver", who is a mechanic/stunt driver by day, who takes side jobs as a wheelman at night. With him, you get five minutes, in that five minutes anything goes wrong, he has your back; if you go past the five minutes, it is no longer his problem.  Things change a bit for him when he meets Irene (Carey Mulligan). Irene and her son, Benicio, take a liking almost immediately to the stoic Driver from across the hall.  Things go a bit awry when Irene's husband, Standard (Oscar Isaac), comes home from prison. She becomes a woman torn between two men, neither which are safe choices.  When Driver realizes that Standard owes a lot of money to men for protection he received on the inside, he decides to pull another job.
After the new job kicks in, Drive becomes an adrenaline pumping action film that shares more similarities to grindhouse style action flicks and old film noirs, than that of films like Gone in 60 Seconds. The last fourth of the film is so hyper-violent at times that it may disturb some viewers.  The overall quietness of the film makes the violence depicted within the film even more disturbing.  It's hard to believe in the second half, that the first half appears to be a bit of a quiet love story.
The change in pace doesn't detract from the beauty of the film though. Director Nicolas Winding Refn has crafted a moody film noir that scales the violence appropriately. The stillness of the film is possibly one of the best aspects of it. A lot of times a quiet film can feel boring, but in Drive it only deepens the underlying tension running throughout the film.
Gosling once again shows he is a high caliber star, and leads the films with no problems. The actor has two other films in release this year, and in each one he plays a vastly different character. They aren't the deep changes of an actor like Daniel Day Lewis, but the subtle changes in personalities between characters is stunning. Gosling is cementing himself as the premier actor of his generation. It isn't very often where you see an actor go from teenager to sophisticated actor.  A role like this  could lead to Oscar buzz for the actor.
After watching the film, I could see why it received such high praise at Cannes. However, I'm still not sure it is going to be something audiences latch onto. If anything it has the possibility of becoming a cult phenomena like Pulp Fiction.  Drive might surprise you, but don't go in looking for a quiet love story, prepared to be floored.
Grade: A