Movie Review: 'Straw Dogs' Starring James Marsden, Kate Bosworth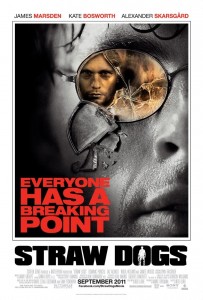 Straw Dogs is director Rod Lurie's (The Last Castle, Resurrecting the Champ) remake of the 1971 Sam Peckinpah film of the same name that starred Dustin Hoffman and Susan George. Although some may find the modern version lacking the coherence of the original, it is a well made thriller with great acting and plenty of tension.
David Sumner (James Marsden) and his wife Amy (Kate Bosworth), a screenwriter and actress from Hollywood, return to Amy's small hometown of Blackwater, Mississippi after her father's death. While there, the goal is to get the roof damage to the barn repaired with FEMA funds and get the house ready to sell. Meanwhile David is working on his latest script in the peace and quiet of the country home. Amy's ex-boyfriend Charlie (Alexander Skarsgard) and his crew end up getting the bid to work on the damaged roof, but unfortunately Charlie still has feelings for his ex and is having trouble letting her go. Tension comes between them and the other locals, and trouble slowly builds for the couple until everyone starts to break.
The acting in the film is great, and I have to give kudos to each one of the leads.  All of the three main characters make you feel exactly like you should for each of them.  For James Marsden's character, David, you are mad that the people of Blackwater treat him like an outsider. He is a really good guy, and is nice to everyone when he gets there.  As for Kate Bosworth, you feel horrible for her character, Amy, and everything she has to go through.  All of the guys in town used to have the hots for her, and she has to relive those tensions every day and go through some horrific stuff.  As far as Alexander Skarsgard's character Charlie goes – you hate him.  You loathe every fiber of his being as time goes on.  And the character is played perfectly, exactly as it should be.  All of them do a tremendous job, and couldn't have been casted any better. The same goes for Charlie's entourage, three good ol' boys who act like characters straight out of Deliverance.
James Woods plays Tom Heddon, better known as "Coach." As you might have guessed, he used to be a coach for the town's high school football team.  Coach is pretty much a drunken bully, who likes to start trouble with anyone and everyone.  But his main conflict is with Jeremy Niles (Dominic Purcell), a mentally challenged youth who has a history of trouble with the younger girls in town.  Coach is very protective of his daughter Janice (Willa Holland), who happens to have the hots for Jeremy, so it is an instant formula for disaster.
The remake definitely has a slow build up until the last 15 or 20 minutes. If you are looking for a non-stop, action-thriller – this isn't the right film for you.  Otherwise, the way that  the tension builds up between the two main characters and the rest of the town is fantastic.  You know something bad is going to happen, but you just don't know how or why.  Things just keep getting worse and worse, and the film does a great job of keeping you on the edge of your seat.  There are definitely some very uncomfortable scenes in the movie, so without giving anything away let's just say that it definitely is rated R for a reason.  No kids in the auditorium for this one.
If you have seen the original Peckinpah film, and are a fan, I think you will enjoy this remake.  Sure it isn't perfect, but for the genre and how well the acting and filming is – it is worth giving a watch.  There are definitely some disturbing scenes, and a fair share of violence, so be far warned.  But if you are a fan of tension and suspense, this should keep you on edge from beginning to end.
Straw Dogs is a B-