A Flood of Support: Concert, BBQ to Benefit Joplin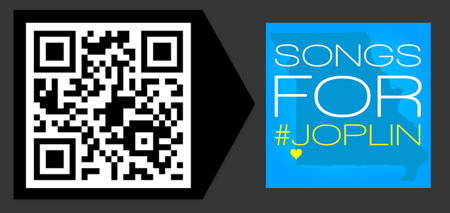 A Songs for #Joplin benefit will be held Saturday, Sept. 17, at the Luna Lounge, 4561 Gravois Road, St. Louis, 63116. An all-you-can-eat barbecue begins at 5 p.m. and features traditional and veggie burgers, brats, hot dogs, wings, potatoes, corn, baked beans, hummus, chips and cookies. Controlled Fires will perform its new album All Bets Are Off in its entirety at 9 p.m., with a local DJ to follow. Cost for the entire day is $10. RSVP for the barbecue and concert on Facebook, and follow @SongsForJoplin on Twitter.

A house flattened. A car thrown. A loved one buried beneath rubble. These were some of the horrifying images that came from online and television news sources beginning May 22. The day of the Joplin tornado. The day that changed Missouri.
The devastation from that EF5 multi-vortex tornado was significant. Home Depot. Pizza Hut. A hospital. More than 7,500 homes. All places of community. All felled by the seventh-deadliest single tornado in American history.
But, as Bono sings, "After the flood, all the colors came out." Joplin wasn't harmed by a flood, but it inherited one anyway – a flood of school supplies for children, of money to rebuild homes and churches, of volunteers from Missouri and beyond. A flood of support. And a flood of music.
Zach Becker had a hand in that. Becker became "patient zero" on a white horse when he began spreading the idea on Twitter that maybe music could help those in Joplin. Maybe, despite being 289 miles away from Joplin, he could make a difference from St. Louis. Maybe we all could.
"Music has always played a role in restoring my sanity in times when I needed a pick-me-up, so for me, it was very natural to gravitate immediately to that," Becker said.
And so Becker began tweeting for his cause until he had musicians, graphic artists, website designers and what seemed like St. Louis' entire Twitter nation in his corner. NoiseTrade.com founder, Derek Webb, went all-in on hosting the album and guiding Becker through logistics. Two weeks and 18 tracks later, the Songs for #Joplin album was born. Ready for tweeting. Ready for downloading.
Thousands of tweets. Thousands of downloads. Thousands of dollars raised. All going straight to Joplin without any overhead from the Heart of Missouri (Columbia) branch of the United Way, the charity Becker chose for Songs for #Joplin. But after four months, it's not enough.
"It's the nature of America to forget, because it's not in front of their noses on the TV," Becker said. "A load of work still needs to be done."
The Luna Lounge and St. Louis band Controlled Fires have offered their shoulders to carry some of that load. The Luna is known throughout St. Louis as a tweetup bar, where the local Twitter folks socialize while getting their drink on. Fitting, then, that the Luna serves as the location for Saturday's Songs for #Joplin benefit.
"Jason Meuser, the co-owner of the Luna, contacted me to come to a Joplin benefit at his bar and wanted me to bring some Songs for #Joplin stuff," Becker said. "That started a conversation about doing a bigger one, with bands, drink specials, giveaways and lots more."
Bigger, indeed, as Saturday's event features a barbecue with burgers and brats, corn, potatoes, watermelon and more – an all-you-can-eat feast for a $10 donation to Joplin.  For another $5 donation, you can get a handmade notebook from 10foot2 made from beer cases. Donors also have a shot at items from the St. Louis Cardinals, St. Louis Blues and Gateway Harley Davidson. If Becker has his way, everyone in St. Louis will be eating, drinking, partying and dancing their support straight to Joplin.
That's where Controlled Fires comes in. The local band will perform its new album All Bets Are Off in its entirety at the Luna once tummies are too full to take one more bite of baked beans. Food for the soul. Music for the soul. It fits.
"Zach basically asked me if we would do it, and I was like 'Okay! Let's make it happen!'" said Sam Wade, one half of the official Controlled Fires lineup and the guy responsible for the Songs for #Joplin album art. "We believe in the cause, and I've had the privilege of seeing it branch out from the beginning. There are no limits to where this could go for Songs For #Joplin and whatever the next wave turns out to be."
Wade saw the devastation in Joplin for himself. He drove through the area shortly after the tornado and noted the leveled homes and businesses. Noted the despair. Noted what should be done. What could be done.
"I can't describe fully what I experienced or felt being in the middle of the destruction. Joplin was mostly huge piles of rubble lining streets that used to be subdivisions. All that was left were skinned trees and driveways," Wade said. "It was like seeing the photos of post-WWII Europe, but in a very sobering way."
"I was tweeting photos the whole time."
Tweeting. Sharing the experience. Finding the community. The same way that Controlled Fires is developing its fanbase. The same way the Luna shares information about Saturday's event. The same way that Becker had asked musicians to contribute tracks for Songs for #Joplin four months ago. Becker's compassionate virus was spreading throughout the Twitterverse.
Controlled Fires had heeded the call for music on Songs for #Joplin. Wade, Jimmy Britton and their group of unofficial-official bandmates contributed their song "Love and Politics" from All Bets Are Off to the Joplin album, and they'll play it during their set at the Luna on Saturday.
"Those affected are still desperately in need of help," Wade said. "We have an opportunity here in our own state to make a real difference."
And once the last burger has been eaten and the last Jello shot has been thrown back, Becker and Wade both will hope for another flood. A flood of dancing. A flood of tweets. Of compassion. Of funds. A flood of support for Joplin.