Movie Review: 'The Incredible Burt Wonderstone' Starring Steve Carell, Jim Carrey, Steve Buscemi, Olivia Wilde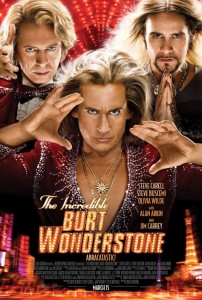 Who hasn't loved magic at one point or another? As a child it is something that you never doubt, with the only rational explanation being that it must be real. As an adult you know that it is all a big trick – but there is something fascinating about watching it, nonetheless. The Incredible Burt Wonderstone is the story of a young boy that grows up wanting nothing more than to be a great magician, but loses his way as it becomes more of a job than a hobby.
Burt (Steve Carell) was constantly picked on growing up. He used a magic kit that his mom bought for his birthday as an escape from reality, which led him to meet his best friend Anton (Steve Buscemi). Fast forward to adulthood and the two of them have landed a gig at a Vegas hotel, headlining as "The Incredible Burt Wonderstone and Anton Marvelton." Although they started off doing something they loved, over the years Burt finds his job boring. After ten years of their "magical friendship," they eventually have a falling out. Unfortunately for Burt, he has lived an extravagant life and saved close to no money. On top of that, a street magician named Steve Gray (Jim Carrey) brings in a competing act that is just the modern twist that hotel head-honcho Doug (James Gandolfini) is looking for. If he wants to save his career, he needs to get back to his roots and listen to the magician that taught him everything he knows – Rance Holloway (Alan Arkin).
Think Anchor Man, but with magicians. That is the closest comparison I can think of when it comes to The Incredible Burt Wonderstone. Carell's character is similar to a Ron Burgandy – full of himself, thinks he is a ladies man, and is a bit dense. And the great part is that it works. The film is completely self-aware, which is why it is pretty well consistently funny. It isn't trying to be intellectual, or overly clever. It is a slap-stick, stupid comedy – and I mean that in the nicest way.
Jim Carrey steals the show in most scenes he shows up in. His character in the film, Steve Grey, is an obvious satire on Chris Angel. His show "Brain Rapist" is a parody of Angel's "Mind Freak" Show. I am a believer that Carrey is a fantastic actor, no matter how silly some of his characters may seem. Sure, he takes a lot of what would be considered "bad" roles in the eyes of critics. But this is a guy who started out on In Living Color, and doing films like Ace Ventura: Pet Detective and The Cable Guy that made him millions. Those are roles that audiences love, along with countless similar ones in his repertoire. But he has also starred in films like Eternal Sunshine Of The Spotless Mind, Man on the Moon and I Love You Phillip Morris – which show much more of his range as an actor.
Olivia Wilde and Alan Arkin both make great additions to the cast. Wilde's character is forced to fill in on Burt and Anton's magic show when their assistant quit's mid-performance, and becomes a staple in their act. Arkin plays famous magician Rance Holloway, who appears on the video that gets Burt into magic as a child. Both of the actors share great chemistry with Carell, as well as with Buscemi. My only complaint is that we don't see more of Buscemi – who is more of a side character than the star of the show. But one thing is for sure – it is hard not to laugh when the two magicians appear on-stage together to perform their act.
If you go into the film expecting it to be anything other than a goofy comedy, you are setting yourself up for disappointment. But if you are a fan of Steve Carell and Jim Carrey's usual brand of humor, you will feel right at home. The movie is consistently funny, with plenty of unexpected laughs that seem to come out of nowhere. For those who anxiously awaiting Anchorman 2, this should be enough to curb your appetite until then.
The Incredible Burt Wonderstone is a C+