Rumor Mill: Will Smith Set to Star in Two 'Independence Day' Sequels?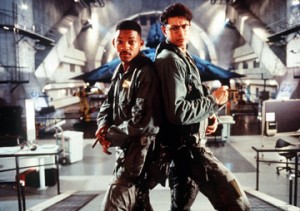 There has been a lot of talk about what Will Smith's next project will be. (Read about his two choices here.) The rumor is that after he makes his choice he will be heading off to film Independence Day 2 and 3 back to back.
There has been talk for years of sequels to the highly popular Independence Day.  One of the biggest obstacles is that the studio, 20th Century Fox, has not been willing to pay Will Smith's $20 million+ price tag for the film. The other was that director Roland Emmerich was apparently not ready to continue the series.
So, what has changed? Well, if you haven't noticed, Hollywood has gone back to the vault for a lot of its ideas lately. The feature film landscape is littered with reboots and sequels.  When you take in the fact that the original ID4 did over $810 million worldwide back in 1996 you know it is a top tier hit. Fox most likely wants to continue their recent string of success that they received with Avatar. They are in need of another tent pole summer movie before another Avatar sequel is released.
IESB.net is reporting that Will Smith has been locked into two ID4 movies, most likely being shot back to back starting in 2011. This would give Smith time to do a project beforehand, and then tie him up for another year or so. There is no word on the release schedule of the film, and who will be back for the sequels. Take into account it has been 14 years since the original, and the story will likely be changed quite a bit.
So, are you excited about the sequels? Do you think they can top the first? Let us know in the comments.