Roundabout's Acclaimed 'Cabaret' Comes to the Fabulous Fox March 7 – 19! Interview with Benjamin Eakeley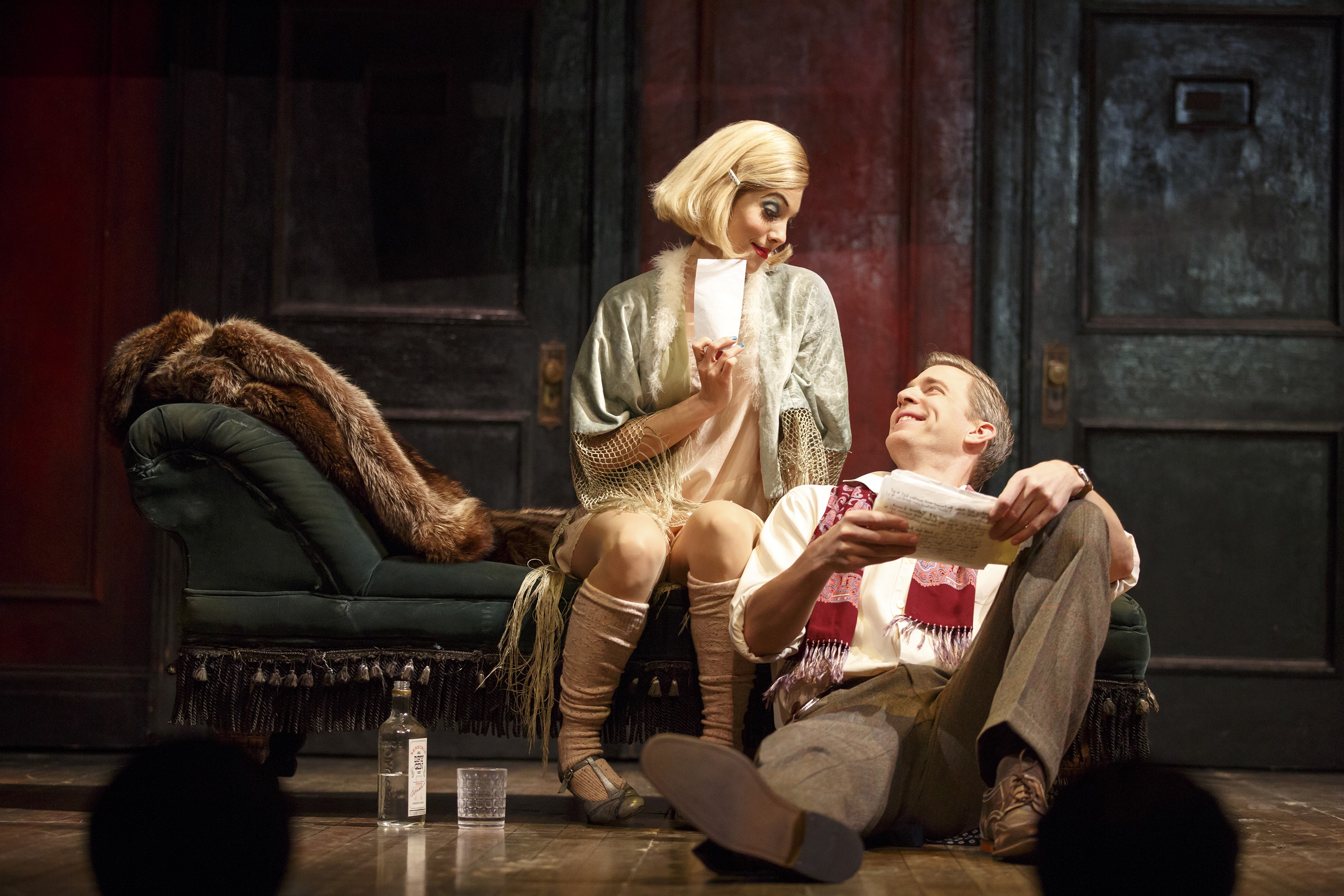 Roundabout Theatre Company's 1998 revival of Cabaret, directed by Sam Mendes (American Beauty, Skyfall) and Rob Marshall (Chicago, Into the Woods), was nominated for 12 Tony Awards. The critically acclaimed production took home 4 of the awards, including Best Revival of a Musical and three of the four top acting prizes. The show lived at Studio 54 for 2,377 performances – making it the third longest running revival in Broadway history. After a return to Broadway in 2014, audiences across the country now have a chance to see this incredible production! Cabaret is playing the Fabulous Fox Theatre in St. Louis from March 7 through the 19th.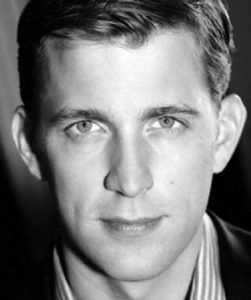 We spoke with Broadway and film actor Benjamin Eakeley (who plays Cliff Bradshaw) about being a part of this historical production, performing with Sienna Miller, Michelle Williams, and Emma Stone in New York, and what makes this show so special.
Before Hollywood
Sam Mendes and Rob Marshall, now known for their amazing film careers, found their start on Broadway.
"This is the show that made them famous – and Alan Cumming as well. Sam developed this production in London in the West End in 1992 or 1993 I believe. It was at a theatre called the Donmar Warehouse – which is a beautiful, small West End theatre (London's equivalent of Broadway). And Sam brought it here in 1998, to the Roundabout Theatre Company, starring Alan Cumming and Natasha Richardson. And that is when Rob Marshall was added to the mix as co-director and choreographer. The show was a huge, huge hit. The production is kind of, "not your mama's version of Cabaret,' and it is a beautiful, realistic and gritty take on the rise and fall of the Weimar Republic. It won several Tony awards, and while it was happening it got the interest of everybody in the world. And the Weinsteins came and saw the production, loved it, and handed Sam the script to American Beauty, which he said he would direct. It was the first film that he directed, and won the Academy Award for that. But literally it was this production of Cabaret that got the attention of the world. And the same thing happened to Rob Marshall, who as you know directed the unbelievable film version of Chicago, and Into the Woods. Rob's choreography in our production of Cabaret is stupefyingly good. And you'll actually see similarities between the seediness of some of these moods in Cabaret and Chicago. And I don't mean to say that he by any means just kind of replicated his choreography. But it definitely has the Rob Marshall stamp all over it. Once you start getting familiar with it, you see it everywhere."
Rob Marshall's 2002 film Chicago is the second highest grossing musical in box office history. It is second only to Grease.
"Aside from being a great choreographer, he is also a spectacular director. He was around all the time on Broadway, as was Sam Mendes. I figured when we did this on Broadway in 2014, that these guys were going to stop in for a little bit, and then kind of head off to their movie star careers. And the reality is that they invested so much of themselves and their time in us, and therefore in this production it was a huge gift to be around them."
With so much success and critical acclaim, it was a no-brainer for Roundabout to bring back the show in 2014.
"This production ran from 1998 to 2004. And Roundabaout decided to remount it for part of their 50th This was also the show that was one of the first kind of unmitigated financial successes for Roundabout. It allowed them to actually purchase a number of Broadway theatres, and changed the nature of the way they could do business. Alan Cumming, who is spectacular in this role, decided that he wanted to come back and do this production. And the show on Broadway this time around was just as much of a success as the first time around, and they decided to tour it. The show has been updated – it's not a black-and-white imprint of the original. The direction has changed slightly, choreography has been tweaked. The attitude and style have been modified to reflect what's going on in our world now, and maybe to streamline some things to make the story as clear as possible. Basically you have these people who are now super accomplished, making a fantastic production even better."
Cabaret on Broadway
Benjamin was a part of the 2014 revival on Broadway from day one until closing night.
"I understudied the role I'm playing now, Cliff Bradshaw, and had the great fortune of performing opposite all our leading ladies: Michelle Williams, Sienna Miller, and Emma Stone." About the success of La La Land, and the now Oscar-winning actress, Benjamin says, "Emma is such a talent, and I'm so thrilled for her. She's also just a really cool cat. When she and I did this together our stage manager said to Emma, 'is there anything you want to rehearse before you guys go on together?' Emma asked, 'Ben, is there anything you want to do?' And I said, 'no, I'd actually like to do the entire play unrehearsed with you, and kind of explore everything, and experience everything in the moment.' And that's what we did that night, and it was one of the big thrills of my life. It just felt like a beautiful kind of a big tennis match, with long volleys, and figuring each other out and having a lot of fun in the process."
The actor said that it was apparent from day one how talented of a performer Stone is.
"She has a musical theater background from childhood. And I believe that she was on a television series on VH1, In Search of the New Partridge Family, when she was younger.  Immediately after that her film career took off, so it is something I think that is part of her that she had not been able to express professionally in a while. And she kept saying when she was with us that performing this production of Cabaret was the most satisfying experience of her life."
Eakeley plays Cliff, one of the leads in Cabaret, who is based on the original author's true experiences in Berlin.
"My character is named Cliff Bradshaw, and he is an American writer who at the top of the show travels to Berlin. This is on New Year's Eve in 1930. He goes to Berlin in search of adventure, and in search of a story. He is looking for his voice and has an open mind, and confidence in his ability to write – but to date has not been inspired by much of what he's seen around him. He arrives in Berlin and immediately is taken in by a group of wonderful and generous, caring – and also eccentric and bizarre – individuals, who in turn introduce him to the seedy world of the Kit Kat Club, which is an underground cabaret club. Basically Cliff gets seduced by the club, and its inhabitants, and by the world of Berlin in the early 1930s. So as an actor it's a big gift, because all I need to do is go in with my eyes open, and my heart open – and I need to just go look for adventure. And it literally slaps me across the face around every corner. It's really fun."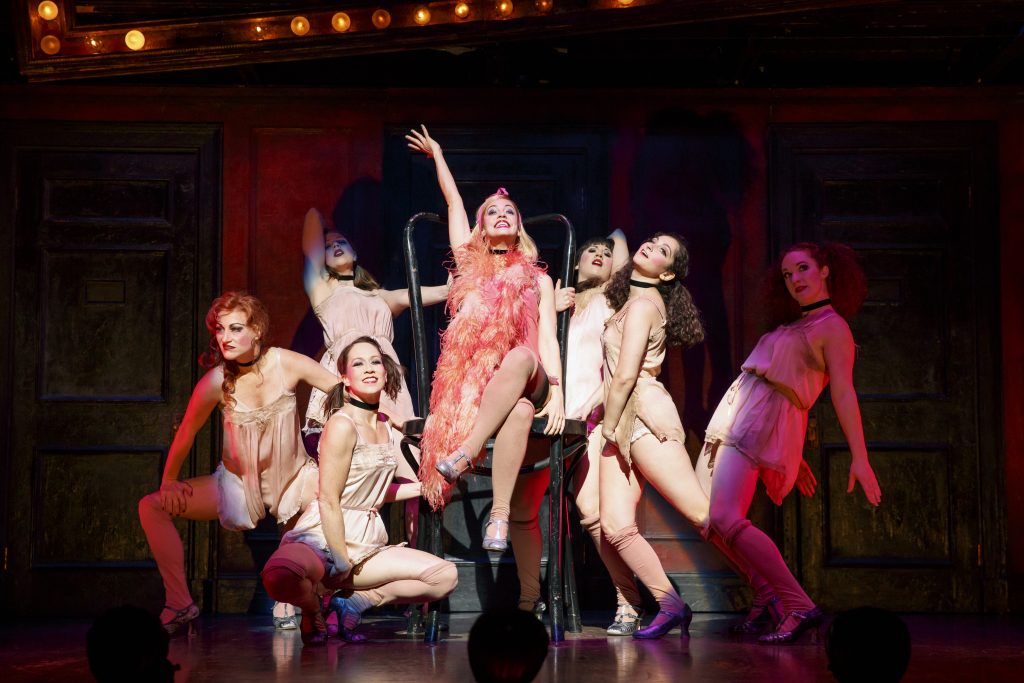 Leigh Ann Larkin as Sally Bowles and the 2017 National Touring cast of Roundabout Theatre Company's CABARET. Photo by Joan Marcus.
This Isn't the Movie
For those who might only be familiar with the 1972 film adaptation of Cabaret, starring Liza Minnelli, Benjamin clarifies his character and his relationship to the movie role.
"The character that I play is the Michael York role from the movie. Bob Fosse, who directed the movie, did a little bit of a hatchet job on the script. The movie differs a fair amount from the stage versions of the musical. The character I'm playing is actually based on Christopher Isherwood, who is the original writer of The Berlin Stories – which all of this is based upon. He in turn became a very famous writer, who found his inspiration in Berlin. So I am playing him on stage."
In the film, the writer played by York is named Chris, and he is British. It's just one of the many changes from the source material. The 1972 film won a total of eight Academy Awards.
"Joel Grey won, Liza Minnelli won, and Bob Fosse won. It's actually just like this production, and the Tony Awards that it received. But I think that the stage version tells the story better, because by nature theater is a participatory medium. And not only does it depend upon participation from the audience, but the character Emcee in our show demands participation from the audience – from the very beginning of the show. So from the first number, a symbiotic relationship is established where the audience is invited into the world of Berlin, and specifically into the world of the Kit Kat Club. And they get to experience everything along with Cliff. And that's just something that you can't get on film. You can feel immersed on film, but you'll always be aware that you're actually watching something that is not happening to you. In our production, this is all happening to the audience – just like everyone else on stage."
And there has been more than one adaptation over the years.
"The first version of this was actually a play by Van Druten called I Am a Camera. It starts the show with a shutter opening, and is basically about a passive observer who is kind of in black and white so that everyone else around him can exist in color. And Cliff very much is the lens from which the audience views all of the behavior that happens on-stage."
The National Tour
With so much to love about this production, it is hard to choose favorites.
"It sounds cliché, but there is truly no moment in the show that I do not love. So it's hard to kind of pick favorites, but there is definitely one scene where two beautiful people both put the moves on me in quick succession – and that is always a pleasure! Secondly, Leigh Ann Larkin, who is our Sally Bowles – I am just enamored of. I adore every moment with her. If we're fighting or falling in love – it doesn't even matter. It's just a thrill to look into her eyes, and respond to her. I think right now my favorite dramatic moment is probably in the second act when our relationship starts to sour a little bit. It might seem odd to say that's something I'm kind of finding joy in, but it's the ambiguity of relationships and human interactions, and the desperation that I personally find most interesting. And the show has been directed so that these scenes change slightly night to night. It's directed so that the show can breathe from performance to performance, and I'm discovering new nuances in our relationship. Even if it doesn't work out at the end of the day, there is a new hope for me that it might work out. That's just thrilling to experience, to be surprised and delighted by something like that."
Benjamin now has quite the established history without Roundabout Theatre.
"I did the production on Broadway, and then did their next musical on Broadway as well –the revival of She Loves Me. And I went directly from that show to the tour; I had two weeks off in-between. I've been working for Roundabout exclusively for the past three years. It's an amazing company, and an amazing organization. They attract great talent because they provide wonderful resources for beautiful productions. They support their artists, and it feels like a family. Especially in the world of the commercial theater, most producers are about the bottom line. Roundabout is about the total experience, and that is just something you can't place a value on as an actor."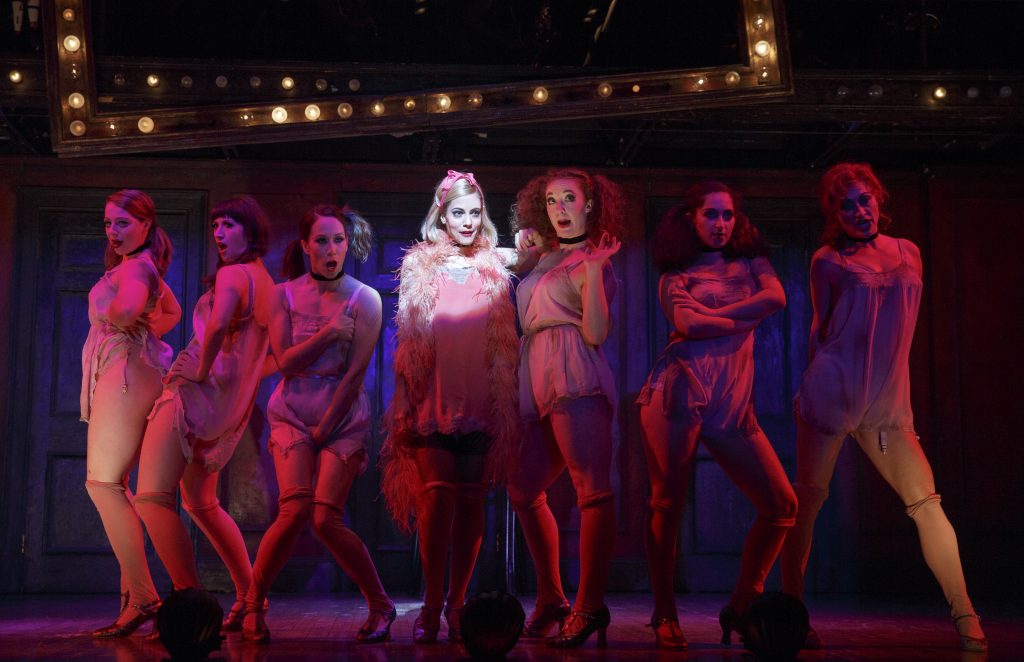 Leigh Ann Larkin as Sally Bowles and the 2017 National Touring cast of Roundabout Theatre Company's CABARET. Photo by Joan Marcus
The Tribeca Connection
The multi-talented actor hasn't only conquered Broadway. Benjamin has a fascinating background in film as well.
"I probably don't go to the theater as much as I would like, which is probably the case with everybody else. But I'm a big movie guy, and I've been fortunate in the past ten years or so. The first movie that I did was directed by Robert De Niro. Since then, I have been going down to Tribeca a couple times a year – probably on average, three or four. I read film scripts with him – the stage directions for a number of table reads that he does. So three to four times a year, times ten years, means that I've gotten to see pretty much every movie star in the world up close whom you and I would idolize. Being at a small table with these people, it's been amazing and changed my perspective on that art form."
Growing up it wasn't dreams of Hollywood for Benjamin.
"I was a competitive classical pianist as a kid, and when high school was winding down I knew that I wanted to transition into singing, but I wasn't competitive enough to be able to get into conservatories at that point for voice. For piano, yes probably. So my parents said, 'you know, why don't you find a good liberal arts school with a strong music department?' And I wound up getting into Yale, and I went there and I had great musical training – but actually not great dramatic training."
From Music to the Stage
"I did a fair amount of performance, but it was all student directed. So when I graduated from school, and decided that I wanted to pursue a career in acting, I had to create the undergraduate education that I didn't really have access to. So I found an old guru acting teacher – his name is Michael Howard – and he informally taught at Julliard, and at Yale, and I joined his Thursday scene-study class. It was a five hour class, and I did it every Thursday for about five or six years.  During that time I began working regularly, so I'd say my education was a combination of the training with Michael and training on the stage. And the combination of two has served me well."
His talents lead him down a different path than even he expected.
"The other interesting thing is that I assumed because my background is in music, that I was going to go off and play Curly in productions of Oklahoma, but it turns out that when I wound up being cast – pretty immediately with little formal acting training was kind of featured acting roles in musicals. So that's why decided to invest in the dramatic part of the education. I figured it looked like there was work for me there, and it was worth pursuing. It's actually been the most wonderful thing because it has allowed me to work broadly across different mediums: theatre, television, film – and kind of express myself as widely as possible."
Robert De Niro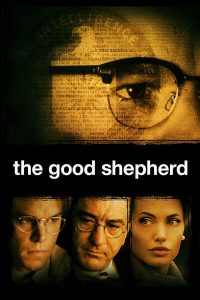 "The first movie that I did was called The Good Shepherd, and it was directed by Robert De Niro. In it I played the head of Skull and Bones in 1963, and I think it helped that De Niro is very particular about the actors he casts. And for this movie in particular, he wanted people to be as close to their characters as possible. So this is a situation where being a Yale graduate really helped me. During my final interview the casting director told me that De Nero insisted he meets everybody in the movie in person before he hired them, and I was the only person that was hired directly from my tape. So that became kind of a little badge of honor. I of course would have loved to meet him – and eventually did at the final table read. And the casting director did a little interview beforehand, and asked me about Yale, and if I was in Skull and Bones. And I said, 'I can't answer that question, I'll have to walk out of the room.' It's kind of like a secret society stupid joke. But casting went on for about two years because it was initially cast with Leonardo DiCaprio, and then he dropped out to do The Aviator. So they lost their financing and had to regain it. So I think over that time he had seen enough of my tapes that he was comfortable. I had a great relationship with that casting director, and they had asked me to narrate a table read of one of De Niro's scripts – and things went well and he kept calling me back in."
A surprising friendship and career was born.
"When you're reading a film script, there's a fair amount of pressure because about two thirds of it is narration, and a third is dialogue. And most of these scripts aren't black-lined, so you have to edit as you go – which is stressful because it can be frustrating for the other actors around the table who might be expecting every line to be read. But De Niro and I seem to have a good kind of relationship where we can read together and it all works out pretty well."
For the actor, who never dreamed of working in film, it was an experience unlike anything else.
"It was insane. When we did the final table read back in Tribeca, we all had lunch downstairs and I'm sitting with the casting director, and some of the younger people – one of which is Meryl Streep's son – and I hear, 'is this seat empty?' It was the seat next to me, and I said it was, and I look up and it was William Hurt. He sat down next to me at the table and I was like, 'you've got to be kidding me!' But that's the amazing thing about that world in film. All of these movie stars are basically workmen just like you are, or I am. The experience in the theater when a celebrity like Michelle Williams, or Emma Stone, comes into a production like Cabaret, and you see it on film sets as well. People are just generally super collegial, and since it's our job to get along, they are easy relationships with all these people whom we kind of idolize."
Cabaret plays the Fabulous Fox Theatre in St. Louis March 7 – 19! Tickets are $25-$100, and available at MetroTix and the Fox Theatre Box Office. For more information, visit fabulousfox.com or the official website for the national tour.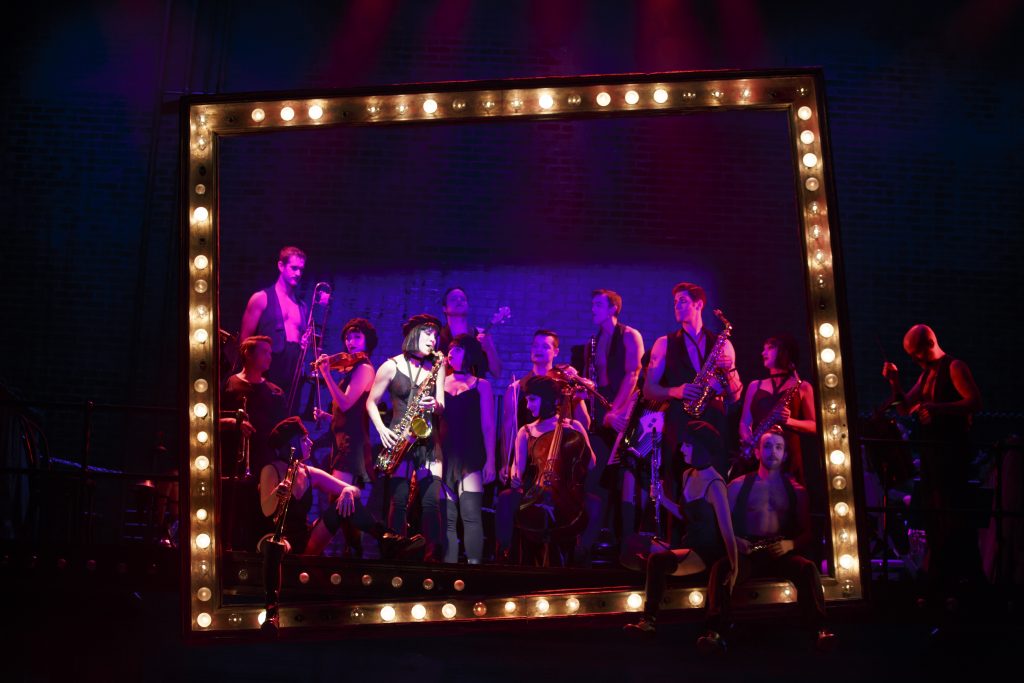 The 2017 National Touring production of Roundabout Theatre Company's CABARET. Photo by Joan Marcus.