Review: 'ZORBA' Offers a Timeless Lesson Among Fun. Now Playing New Line Theatre Through March 25!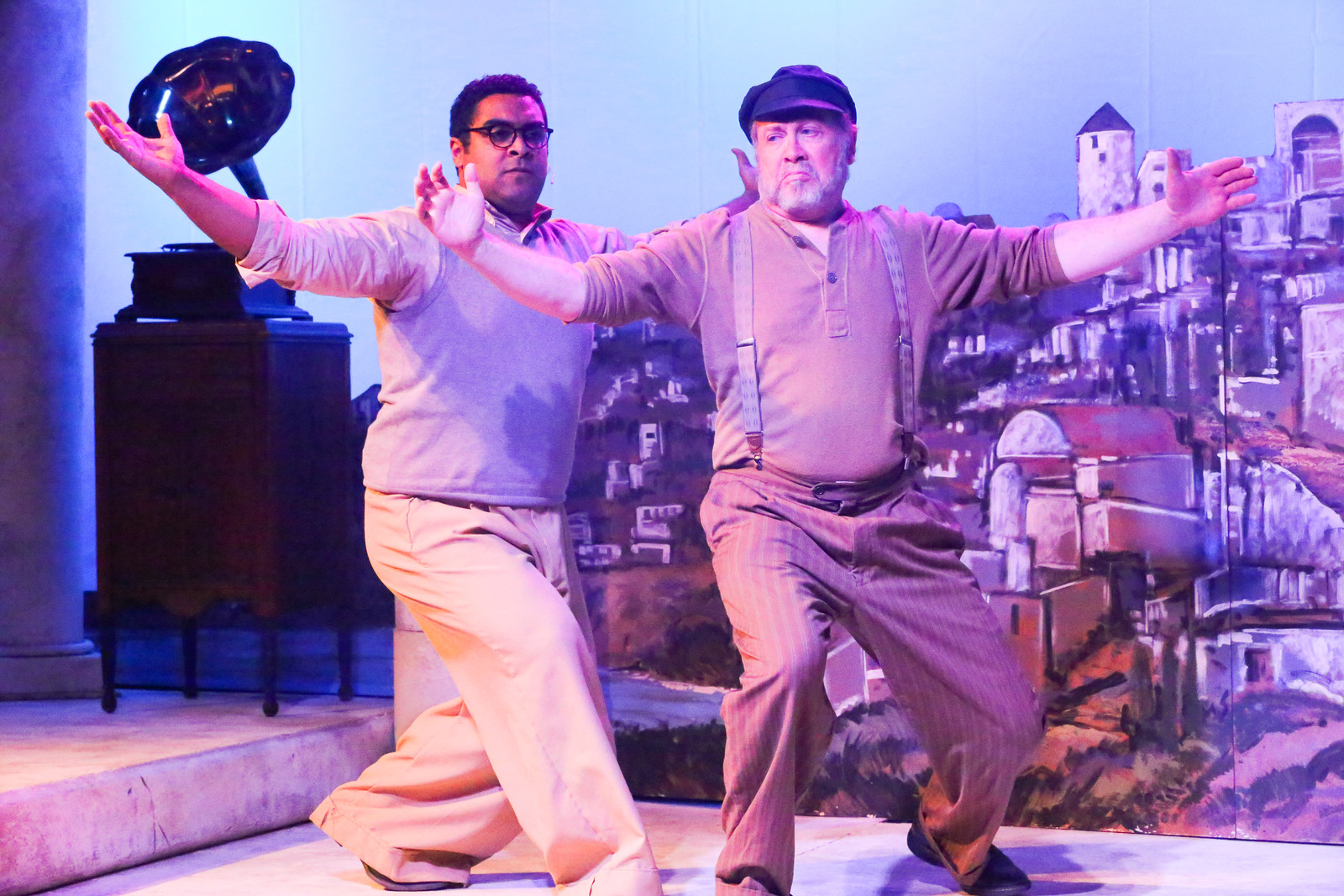 "Life is what you do while you're waiting to die,
Life is how the time goes by!
Life is where you wait while you're waiting to leave,
Life is where where you grin and grieve!"
This verse from the opening number in ZORBA, "Life Is," perfectly sums up the message of the show. Yet it is only after watching the entire performance that these words truly sink in.
The musical opens in a crowded bouzouki parlor in Greece, where the locals are gathered around telling stories – and arguing over the meaning of life. In their first song they all have different ideas about their worldly existence, until the leader (Lindsey Jones) steps in to share her wisdom. Jones has a rich, powerful voice which narrates the show in the background throughout the performance.
We are soon introduced to Nikos (Dominic Windsor), a young, well-read businessman waiting in a cafe with his books for the ship that will take him to a mine he has recently acquired. Seemingly out of nowhere, a man appears and strikes up a conversation with Nikos. That man is Zorba (Kent Coffel) – a strong, confident man in his sixties, and larger than life character who loves telling stories (whether you asked for them or not). Zorba sings the fun and catchy song, "The First Time," and convinces Nikos to hire him to run his new mine. He agrees, and the two set sail for Crete.
Coffel is brilliant as Zorba. His performance is simply spectacular – one of my favorites that I have seen as of late. His casting is a testament to the expertise of director Scott Miller, who has now produced 80 shows for New Line since founding the company in 1991. Coffel will make you believe that he actually is Zorba, completely forgetting that you are watching a character in a musical. His character shares some similarities to Tevye from Fiddler on the Roof – which makes sense, being that Joseph Stein was responsible for the book of that show as well. Yet make no mistake, Zorba is a personality unlike no other, masterfully portrayed by Coffel.
Dominic Windsor plays a terrific Nikos – a character who is careful and skeptical when we first meet him. Yet as the story goes on, his relationship with Zorba teaches him many things, and their experiences cause him to grow tremendously by the end. Windsor really captures this transition with his delivery and body language, causing the audience to feel all of his character's growth. Windsor and Coffel are great together, telling the story of this fascinating relationship as it is meant to be heard.
Read our interview with Scott Miller about ZORBA, and the history of New Line Theatre.
The scenic design by Rob Lippert is absolutely gorgeous. With the large ancient columns towering over the stage, comprised of stone and marble stairs, the set instantly transports the audience to Greece. The wonderful visuals, including the meticulously crafted costumes designed by Sarah Porter, pull you in and don't let go until the show has ended.
The music and lyrics for ZORBA were written by Fred Ebb and John Kander respectively, best known for incredible shows like Chicago and Cabaret (among many others). The music is not only catchy, but very rowdy and full of emotion at times. This should come as no surprise given Ebb and Kander's catalog, yet it's a wonder how this show isn't better known. Aside from the aforementioned numbers right from the start, songs like "The Top of the Hill," "No Boom Boom," "Goodbye Canavaro," and "Grandpapa" are only a few which are sure to stay with audiences long after they leave the theatre. The New Line Band, lead by Sarah Nelson, plays beautifully as the music tells much of the story. Adding to the authenticity is an actual bouzouki – a sound which instantly reminds you of Greece.
The show is directed by Scott Miller and Mike Dowdy-Windsor, a winning combination that started a couple of seasons ago. Dowdy-Windsor, a veteran actor with New Line since 2009, was recognized by Miller for his creative input to their shows over the years. He then became a co-director for New Line, taking the lead on one show per season as well.  The team won the St. Louis Theater Circle Award for Best Direction in 2015 with Bonnie & Clyde. Their work on this production is another home run for New Line, packed full of great choreography and stage direction.
Zorba and Nikos both find themselves in complicated relationships during the story. Margeau Steinau plays Madame Hortense, the owner of the house that they rent while in Crete. Steinau is fantastic in the role, with a beautiful voice and bubbly personality. As she becomes more and more attached to Zorba, the ladies man starts to have second thoughts. Yet their relationship as it grows and changes is wonderful to observe, and the actors have fantastic chemistry.
Ann Hier plays a widow, whom is the recipient of much negative attention from the locals. The actor is great in the role, responding to the unwanted advances and insults with mostly her body language. Nikos finds himself attracted to the widow, and struggles with his feelings until the numbers "Only Love" and "The Bend of the Road" – the latter of which is another tremendously fun and catchy tune. The leader and Greek chorus eventually convince him to go and get the girl who is waiting for him. Without ruining the story, their relationship is one of both beauty and pain. But as the show teaches us, that is life.
ZORBA is a musical that you may not yet know, but one that you will never forget. The songs are brilliantly crafted, telling a story of an unlikely friendship and the ups and downs that come with life. There is a significant lesson behind the catchy songs and wonderful performances that should not be ignored. Life is both good and bad, and you have to embrace everything that it entails to fully appreciate it. The show does an incredible job of teaching this lesson, and is non-stop fun at the same time.
"Life is what you do while you're waiting to die,
Life is how the time goes by!
Life is where you wait while you're waiting to leave,
Life is where where you grin and grieve!"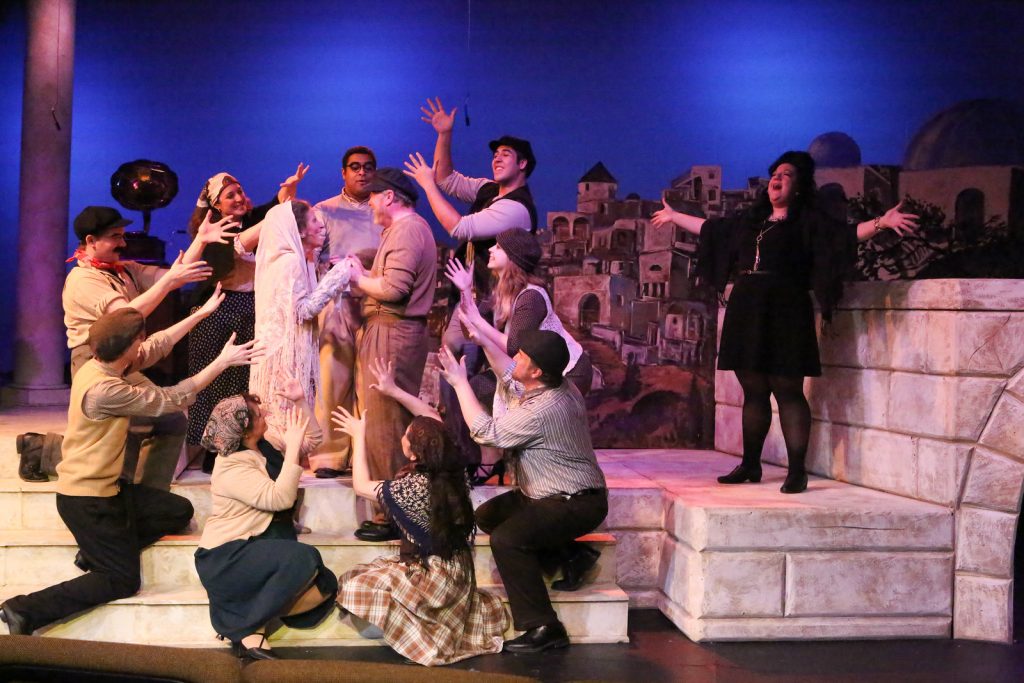 The Leader (Lindsey Jones, far right) and the company celebrate the wedding of Zorba (Kent Coffel) and Madame Hortense (Margeau Steinau), in "Y'assou," in ZORBA, New Line Theatre, 2017. Photo credit: Jill Ritter Lindberg.
New Line Theatre's production of ZORBA plays the Marcelle Theater in St. Louis March 3 – 25. Tickets are available at Metrotix. For more information, visit newlinetheatre.com.