Review: DISENCHANTED! Offers a Unique Spin On Happily Ever After for Disney Princesses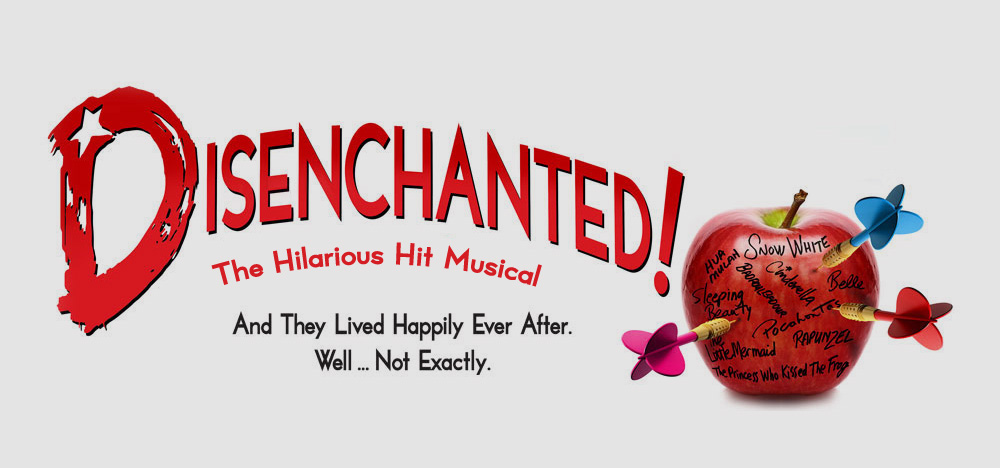 I'm an enormous fan of the Disney animated classics. In fact, the first movie I ever saw in theaters was The Little Mermaid. My favorites include: Beauty and the Beast, Snow White and the Seven Dwarves, and Cinderella. Combine that with my love of musicals, and tell me that there is a show about the most famous fairy tale princesses' not-so-happily-ever-after? I'm sold.
DISENCHANTED! is staged like a variety show, hosted by a strong and sassy Snow White (MADISON TINDER). Accompanying her throughout the evening are her co-hosts Cinderella (MADISON HAYES-CROOKS) and Sleeping Beauty (DANIELLA RICHARDS).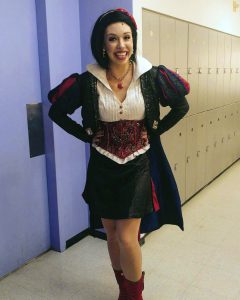 Right off the bat, the princesses make it crystal clear that they are in need of no rescuing. The show flips the old convention on its head, as there isn't a prince in sight throughout the entire performance. It's a strong message at a very important time in our society, and the musical handles it perfectly through humor and catchy songs. Never does it come off as preachy, or mean-spirited towards men. Rather it's simply empowering.
Read our interview with Madison Tinder about playing Snow White, and learning the roles for all of the princesses.
The songs are so much fun, especially if you are a Disney nerd. You'd be hard-pressed to find someone who isn't familiar with these characters, but the people who will get the most out of the show are the ones who grew up wearing out their VHS copies of the cartoons. There are countless amounts of references, tributes and jokes about the house that Mickey built. And if you look carefully, you might even spot a pair of puffy white gloves around the stage. The entire show is a brilliant satire of the stereotypical princesses kids have grown up with for years, suffering from what it has coined "The Princess Condition."
The cast is comprised of six actors playing ten different roles. All of these women are extremely talented; they can sing, they can dance, and they know how to make the audience laugh. Right from the start, with the opening number "One More Happily After," these princesses never pull their punches. Snow, Cinderella and Sleeping Beauty start off reading their fairy tales from books, and abruptly close them after reading these words in unison: "and they lived happily ever after." They shout, "well, not exactly!" and the show is off to the races.
One by one, Snow calls another princess to the stage to tell their story. We are introduced to Belle (MIRIAM DRYSDALE), who has seemingly gone insane talking to inanimate objects. Pocahontas (ANN PAULA BAUTISTA), who is only 14 years old and followed around by leaves and woodland creatures wherever she goes. The Little Mermaid (DRYSDALE) is a southern alcoholic, drowning her sorrows from trading her fins for feet. Mulan (BAUTISTA) is a princess without a prince, and discovers she might be looking in the wrong places for love. Rapunzel (DRYSDALE) is a rigid German Princess who won't let her character get Americanized. And the princess who kissed the frog (CHERISE THOMAS) is just happy they finally let her go black. There is also a brief appearance by the Princess from Aladdin – you know, Princess Badroulbadour (BAUTISTA).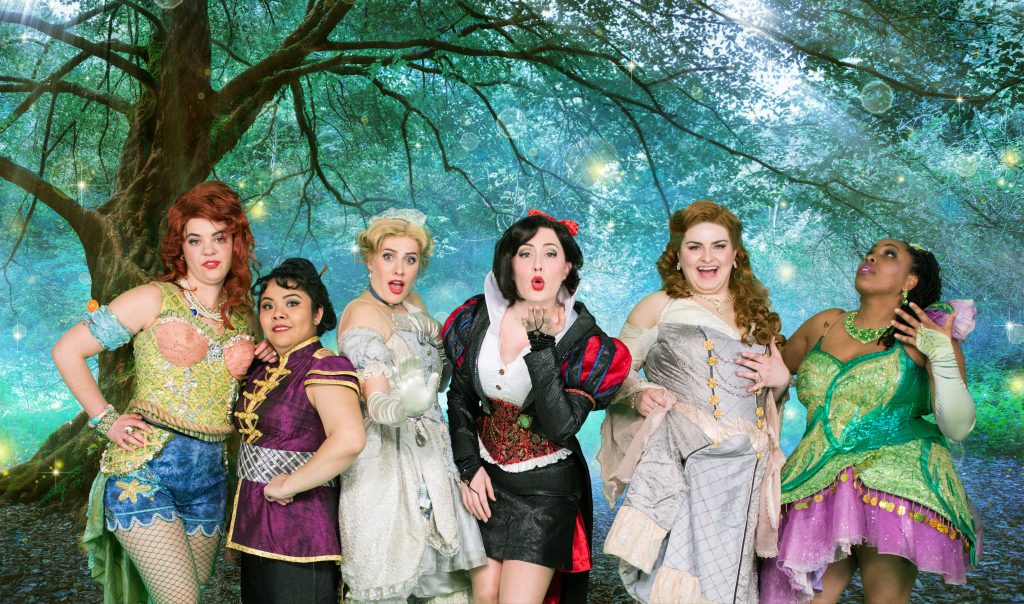 DISENCHANTED! has a clever book and lyrics, written by a former history teacher and Walt Disney World employee – Dennis Giacino. He came up with idea after becoming increasingly frustrated with the historical inaccuracies revolving around Pocahontas. From their he expanded it to the other famous princesses – and eventually the show was born. It fittingly opened in Orlando, before moving to New York, Off-Broadway. After much success, the should has toured all across the country and recently around the world.
If you are looking for something fun to do on a girl's night out, or bachelorette party, this show is perfect. There were several groups of women in the audience that were all having a great time. With that being said, I truly believe the show is for everyone. Although the princesses make it clear that they don't need any saving, the show is never insulting toward men. It makes a lot of very intelligent observations, and shines a light on a lot of the silly parts of fairy tales. And I for one had a great time with it, laughing all throughout the evening. It is probably best to save this show for teens and up however, as there is a bit of dirty language (there is a song called "Big Tits" about the disproportionate dimensions of Disney Princesses). However it is all in good fun, and never comes off as tasteless or offensive,
Anyone who loves Disney and fairy tales, whether you're a prince or princess, and wants to have a great night of hilarious songs and catchy music, better get to this show before the clock strikes midnight.
DISENCHANTED! is playing the Playhouse @ Westport until Sunday March 5. Tickets are $60 and available through MetroTix. For more information about she show, visit the Playhouse at Westport website or disenchantedmusical.com.
[embedyt] http://www.youtube.com/watch?v=zAKdQDkPBq0[/embedyt]