DISENCHANTED! at Westport Playhouse thru March 5. Interview with Snow White Actor Madison Tinder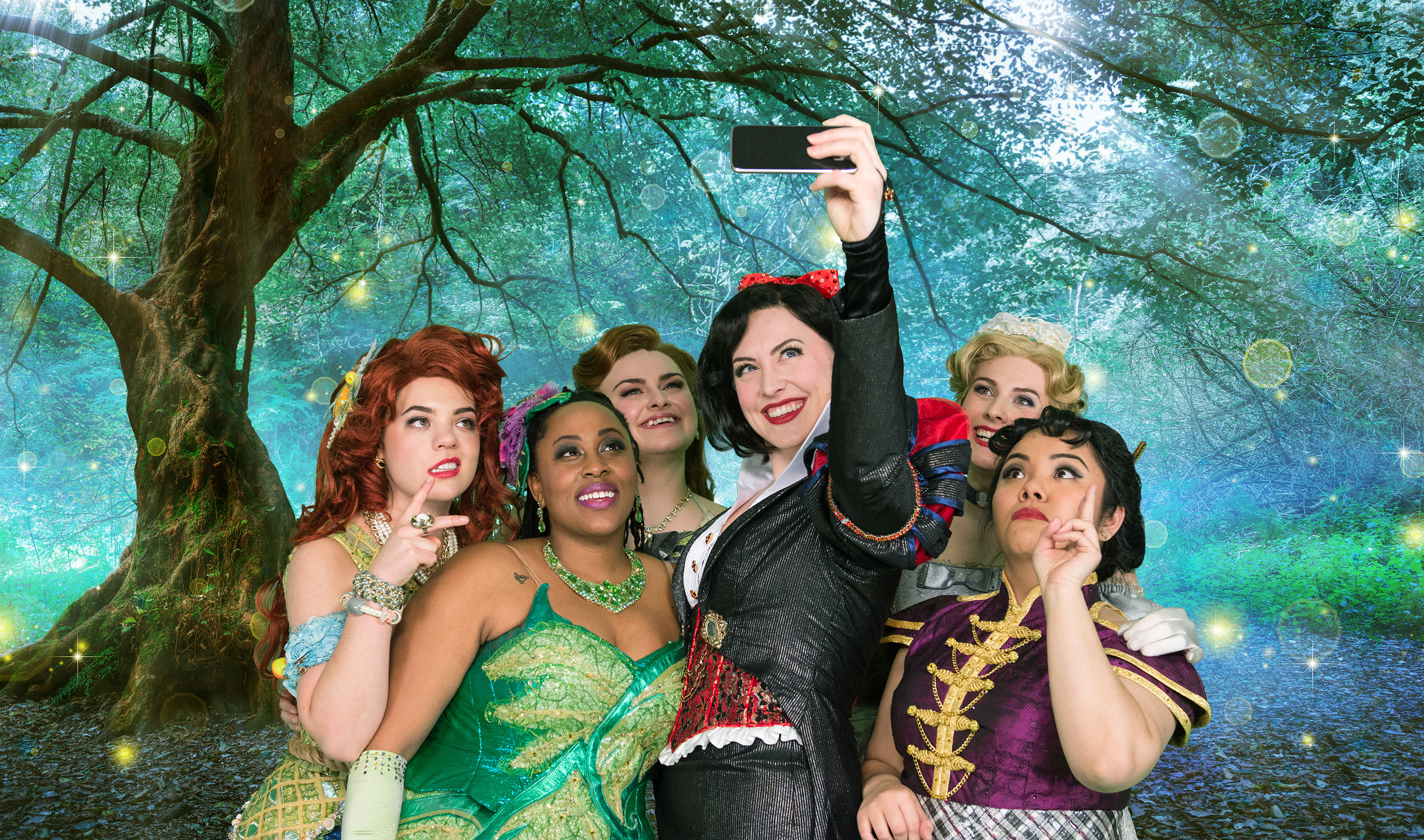 DISENCHANTED! will be in St. Louis from Feb 28 through March 5.
The musical was created by Dennis T. Giacino, a former history teacher who was more interested in the real women behind the Disney princesses. What started with Giacino's love of music and study of Pocahontas quickly evolved into a show that explores the original stories of many princesses we know and love.
The production enjoyed a sold out run at Orlando's International Fringe Festival in 2011 – winning the award for "Best of Fest" from the Orlando Sentinel. Soon after there were productions popping up all over the United States (including a sold out New York engagement), and now even in the Dominican Republic.
We spoke to Madison Tinder, who was hired for a swing role to cover multiple characters in the show. While in St. Louis, Madison will be portraying Snow White.
On getting the job in DISENCHANTED!, Madison said,
"I'm based out of New York City, and I got an audition for the swing job. As the swing I cover five different tracks in the show: Snow white, Cinderella, Bell, Rapunzel, and Little Mermaid. My agent got me an audition, said it was a remount of the show, and gave me a bunch of sides. I went and auditioned, and found out, and had to leave two days later for rehearsals to begin. So it was a very spur of the moment, pack your stuff and leave quickly instance – which is always exciting because you get to travel, and work on an awesome show that's really funny and great to be a part of."
Like most children of the '90s, the actor grew up watching cartoons of the famous Princesses.
"I've always loved fairy tales. I've grown up being very involved in Disney. I was born in California, so I grew up going to Disneyland all the time. And I lived for it. I loves Sleeping Beauty, Beauty and the Beast, The Little Mermaid – you know, all the classics. But I also grew up loving movies like Anastasia. Basically anything that involved adventure, romance – I was into it."
If you think you already know the stories of these classic characters, think again.
"This show is a different take on the princesses that we've all grown up and loved, and admired. It stems from what happened after the happily ever after, and the princesses are not necessarily as happy with what has happened after the end of the story. So they kind of come together to put on a show, two explain where they're at. Even though we've grown up with these characters, there are flaws in it. And it's not all that it's cracked up to be. It's a really fun take because of that, and there are so many opportunities for humor. We are poking fun at it in a very heartfelt way."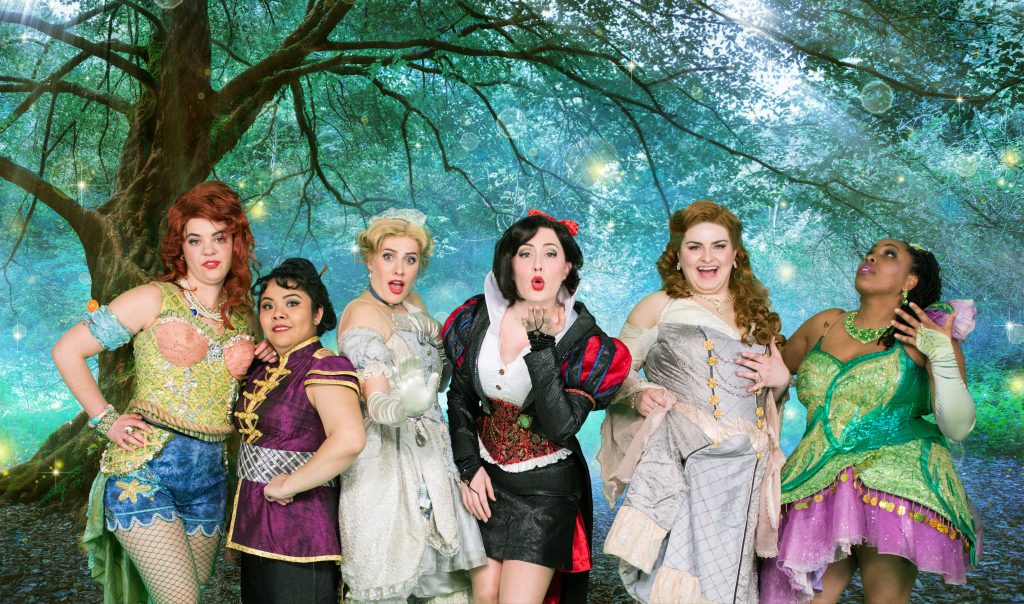 When we see Madison in St. Louis, she will be playing Snow White. But she also has to memorize the lines and movements for four other characters in the show.
"My job technically the swing, so I cover five different roles in the show. But currently what you will be seeing me as is Snow White, who is kind of like the ringleader. It's one of the toughest jobs that I've ever had for sure, simply because in the show there is no ensemble part. So everyone has so much to do, and every person's character is fully realized. So it's a challenge in that respect, keeping everything separate as well as different vocal lines and harmonies – and also blocking. But that's also why it's so fun, because you get to explore so many different characters. And then you get to live in each character's reality for an hour and forty minutes, depending on who you are going on for. So it's really fun in that respect, and I always love getting to play multiple things. It's a blast for me."
There are six main characters, and nine girls total in the cast.
"I love the fact that it takes certain aspects of the classic fairy tales, and it adds a new strength to these characters that is really relevant for our time in my opinion. And wonderful to get to see, and to show to an audience."
In reference to strong female leads, Tinder says,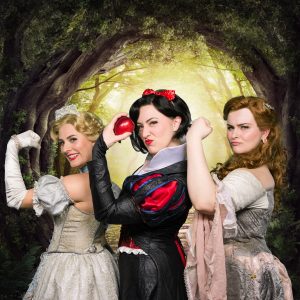 "That element is often missing in some of the original fairy tales. And the show gives an opportunity to bring that relevance of today, with women being strong, wonderful characters, and adding that into the original fairy tales."
While the show isn't geared toward children, it isn't terribly explicit and has something in it for everyone.
"The content is mixed, I would say with teen and above you're probably fine. We've had children in the audience before, and some of the jokes often go over their heads. So it's not a big deal. There's not too much bad language in it, but it's definitely something for a bachelorette party, or a girls night out – and have a blast. But it's for everyone, which is really cool."
Madison comes from a theatre family, so it was only natural for her to study acting and move to New York to pursue her dreams.
"My whole family kind of does theater. My parents are actors, and own a theater. I was born in California and grew up in San Antonio actually. My sister is also a performer. So it was always kind of like the family business; It was always what I did, and there was never really a question in my mind that that I wanted do something else. My first musical ever was Thoroughly Modern Millie; I was a speed typist, and it with my freshman year in high school.
I grew up dancing, and singing, and acting. I had always always done all three for the early part of my life. I also wanted to be a film actor, and then I saw my first musical and realized a medium that allowed me to do all three of the things I love to do more than anything else. So for me, my heart is more in musical theater – but I love anything that gets to make an audience think, and allows you to go in and experience another character's reality. I think so often today that is lost, and it's awesome to get to do it.
I went to college in Ohio for theater and got my BFA. As part of junior and senior year with that program, you do an internship with a casting office in New York. So that got me settled into New York City, and I loved it. The heartbeat of it just matched my own, which sounds cliché, but it's actually the case. It fit my personality and my spirit in such a way that I really can't imagine living anywhere else after I graduated. So I just stayed and continued to work in the city, and auditioned, and do jobs."
It wasn't only her love of musicals that influenced her career. The actor loved watching classic films on the weekends growing up.
"You know how most kids wake up on Saturday morning and watch cartoons? At least that's what they did in the 90s. But for my sister and I, and my grandpa, we would wake up on Saturday mornings and sit in front of the TV and watch Turner Classic Movies. I grew up watching The Sound of Music, Singing in the Rain, Gone with the Wind, Casablanca – and all of those fantastic films, which was wonderful."
Madison says that she loves living in New York City, and can't imagine going back.
"Theater in general is such a high quality in New York. On one of my favorite shows I have ever seen in New York City was Big Love. It played at The Signature my senior year of college. When I was on internship I got to see it, and it's one of the only shows in New York that I've genuinely gone out of my way to get tickets to see multiple times. It was just wonderful, and I loved it. I also got to see Gentlemen's Guide, which I love. And just recently I got to see Phantom, because I have a friend in the show, which was great. It's tough because it's expensive, and you're trying to pay rent. But if you can play the lottery, or do a general rush, you can usually get pretty cheap tickets. It's well worth the trip, and the experience in and of itself, it has a very unique rhythm to it – which is different than any other place that I've ever been."
DISENCHANTED! is currently playing the Playhouse at Westport Plaza until March 5. Tickets are $60 and are available online at Metrotix, or at the box office an hour prior to each show. For more information visit westportstl.com or the DISENCHANTED! website.
[embedyt] http://www.youtube.com/watch?v=zAKdQDkPBq0[/embedyt]