Robert DeNiro Playing Legendary Football Coach Vince Lombardi in ESPN Film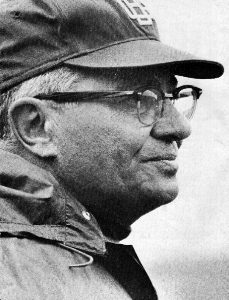 ESPN films is producing a film based around the life of legendary Green Bay Packers coach, Vince Lombardi. Writing the film will be The Curious Case of Benjamin Button's Eric Roth, and now attached to star in the film is veteran actor Robert DeNiro.
ESPN details the film as spanning from 1959, when Lombardi became a NFL head coach of the worst team in the league, the Green Bay Packers, to the point where he turned the team around to five time NFL champions. The story is also set to highlight the rivalry between Lombardi and Dallas Cowboys' coach Tom Landry. The two were both assistant coaches on a NY Giants team that lost the 1958 championship. Lombardi was famous for his discipline that was trans formative of the teams he coached.  The trophy given away at the Super Bowl is named in his honor.
Sounds like a great film, and it has a great writer attached to it. Pair DeNiro with an A-list screenwriter who worked on films like Forrest Gump,  Munich, and The Insider, and you are bound for success. ESPN's plan is to release this sometime before the 2012 Super Bowl game, to capitalize on the football mania at the time.