Warner Bros. Turning Leonardo da Vinci Into Action Hero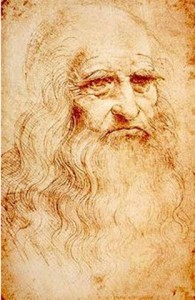 Nope, you did not read that wrong. Warner Bros. have bought a treatment for a script that turns  Da Vinci into an action star in his period. The treatment is called Leonardo da Vinci and the Soldiers of Forever, written by producer Adrian Askarieh, who is teaming with Vertigo's Roy Lee and Doug Davison. Askarieh is looking for a writer, and will be producing the film under his Prime Universe banner.
The treatment is said to be a mix of a few different genres. Take a splash of Raiders of the Lost Ark, mix it with a bit of Clash of the Titans, and a bit of a Da Vinci Code prequel, and you have an idea of where they want to take it. The film will follow Da Vinci as a member or a secret society that pits him against all kinds of monsters and puzzles.
This pickup comes as Warner Bros. is trying to do more period action pieces, and hope to capitalize on them like they did with Sherlock Holmes.  The studio has other period pieces like this in the works including a Sherlock Holmes sequel, a Marco Polo film, and a new King Arthur project.
I find Leonardo da Vinci to be one of the most fascinating people to have ever lived, and I would much rather see something on his real life exploits than an over the top action film. Although, I feel I would probably be in the minority on this one.