Rob Zombie Set to Direct "The Blob" Remake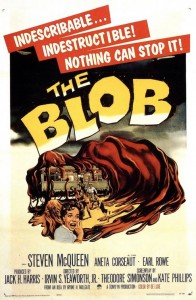 After rebooting the successful "Halloween" franchise, Rob Zombie is going to take on another horror classic. This time the rock star turned director is going to take on "The Blob."
"The Blob" was released in 1958, and starred Steve McQueen in his first leading role ever. The film is about a red, gelatinous blob that comes to Earth from outer space, and terrorizes a small town. The Blob keeps growing, and becomes more troublesome as he eats more and more. Steve McQueen's character is given the task to eliminate the blob before it is too late!
According to Variety, Zombie is a fan of the original film, but has decided to change the story up a bit. He said, "My intention is not to have a big red blobby thing — that's the first thing I want to change. That gigantic Jello-looking thing might have been scary to audiences in the 1950s, but people would laugh now."
Zombie mentioned that it will be nice to see a change of scenery from his usual blood and gore horror movies that he is famous for, like "House of 1000 Corpses" and "The Devil's Rejects." Zombie says, "I'd been looking to break out of the horror genre, and this really is a science fiction movie about a thing from outer space. I intend to make it scary, and the great thing is I have the freedom once again to take it in any crazy direction I want to."
The concept is promising, and I am sure that Zombie will get the funding needed for the project. Check back for more news as we learn more.