Robin Williams to star in Touchstone Pictures' "Wedding Banned"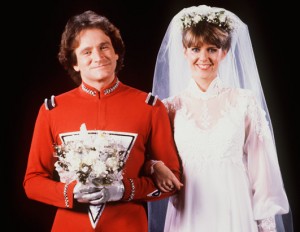 Robin Williams is back in another wedding movie, this time playing the father of the bride instead of a zany priest. Williams is set to star in the new comedy, where the divorced parents of the bride-to-be kidnap their daughter in order to stop her wedding.
The movie is being produced by David Hoberman and Todd Lieberman of Mandeville Films. Mandeville is also producing Touchstone's upcoming film "Surrogates," starring Bruce Willis. They also produced another wedding themed movie, "The Proposal," earlier this year.
Hopefully this will be one of Robin William's more funny comedies, rather than just stupid. It seems to me that when his films are darker, they are more entertaining. I just don't think that the silly stuff is doing it for him any more. He is a great comedian and actor, but it seems that he really shines when he is doing a foul-mouthed stand-up routine, or a darker movie like "One Hour Photo" or "Insomnia."