Josh Kelley Live at Studio 98 | Bottleneck Blues Bar at Ameristar Casino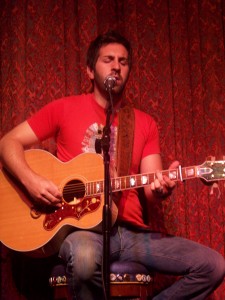 Y98 and Arby's Present Studio 98 featuring Josh Kelley
Bottleneck Blues Bar Inside the Ameristar Casino
Friday, August 28th
I was one of about 20 fans that came out to the Bottleneck Blues Bar at the Ameristar Casino to catch a live performance by Josh Kelley. He came out and started singing "Can't Take Another Gone Like That," a song off of his new album. He then took questions from a few of the fans, and talked about how he is an avid golfer. He actually used to have a T.V. show on the Travel Channel called "Road Show." One time Arnold Palmer actually told Josh "shave that sh*t off your face." This drew a lot of laughs from the crowd.
After the small Q & A, he sang a song that he wrote in college called "Amazing." It was a great song, and had a great reaction from the crowd. After the song we got to hear a bit about his wife, actress Katherine Heigl. One audience member asked if she was still alive, referring to her character on "Grey's Anatomy." Josh thought they were talking about her in real life, and said "…yeah, she is alive and well." It was pretty funny. Once that was cleared up, he said "I don't watch the show – I only go to set to eat the catering." That got more big laughs from everyone in the crowd.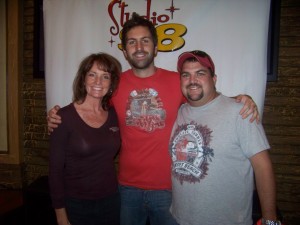 Next up was "Home to Me," and another new song called "Blue Eyes." After he was finished with those two, he talked about the "Habitat for Humanity" event that he was in town for yesterday. He then closed with the song "Almost Honest." Overall it was a fun time getting to meet Josh and hear him sing. We all had a chance to get our pictures taken with Josh, and he signed my Arby's shirt. I am actually going to give away the shirt on the site, so leave a comment below on this post for a chance to win it!
Josh Kelley is a really nice guy, he performs great music, and if you don't own any of his CDs – you should go out and buy some!
About Josh Kelley
Kelley released his independent album, Changing Faces, in 2001 and signed with Hollywood Records in 2002. Working with John Alagia as his producer, Kelley released the album, For the Ride Home, on June 3, 2003. The album featured his hit song "Amazing," which most people know him by. He also made an appearance at the Bonnaroo Music Festival in 2003.
Even though Kelley has stated that the lyrics from his song "Angeles" were fabricated, he moved to Los Angeles from Georgia and recorded the majority of his second album, Almost Honest, in the studio of his home. Almost Honest was released on August 23, 2005, and featured the hit single, "Only You."
After asking to be released from his contract with Hollywood Records, Kelley released his third album, Just Say The Word under his own label named Threshold. The digital version of the album was released through iTunes on June 6, 2006, while the physical album was released in stores in the United States on July 25, 2006. "The Pop Game" was the first single from his self-produced album and was accompanied by a cartoon video.
Kelley's next album, Special Company, was released in the United States on January 14, 2008. His label, Threshold, was renamed DNK Records so as to avoid confusion with another record label by the same name. Kelley also released a digital album that summer titled Backwoods on July 7. Later that year, Kelley released his latest album, To Remember, on September 23 exclusively through Target stores. The title track was also included on the AT&T Team USA Soundtrack.
Kelley has toured with many artists including Rod Stewart, Third Eye Blind, Toby Lightman, Counting Crows, and Ryan Cabrera.
Kelley has recently written a track for Leona Lewis' upcoming album, due for release later this year.