New 2009 Fall TV Shows- FOX
Hope your DVRs are ready folks! The new fall season is just around the corner. If you are anything like me I'm sure you'll have quite a few new shows you want to watch, and I'm sure you will have some you want to avoid.  Let's take a look at the new Fall pilots for FOX.
Glee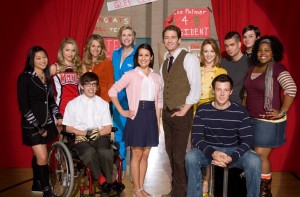 GLEE is an uplifting series with biting humor that features a soundtrack of hit music from past to present. The show follows an optimistic high school teacher, WILL SCHUESTER (Matthew Morrison), as he tries to refuel his own passion while reinventing the high school's glee club and challenging a group of outcasts to realize their star potential. It's not an easy task when the pitch-imperfect club includes MERCEDES (Amber Riley), a forceful diva-in-training; ARTY (Kevin McHale), a geeky guitarist; KURT (Chris Colfer), a dramatic soprano; TINA (Jenna Ushkowitz), a punk rocker; and self-proclaimed "star" RACHEL (Lea Michele), a perfectionist firecracker. McKinley's cruel high school caste system prevents the glee club from flourishing, so Will recruits FINN (Cory Monteith), the quarterback with movie star looks, to join the group even though he wants to protect his reputation with his holier-than-thou girlfriend, QUINN (Dianna Agron), and his arrogant teammate, PUCK (Mark Salling). With harsh criticism from everyone, including Will's tough-as-nails wife TERRI (Jessalyn Gilsig) and McKinley's egotistical cheerleading coach SUE SYLVESTER (Jane Lynch), he is determined to prove them all wrong and lead the glee club to the greatest competition of them all: Nationals.
Worth watching? If you saw the pilot which actually aired at the end of last season and liked it, then you'll want to stick with it. The pilot was charming, but it didn't hit all the right notes for me (if you can excuse my use of puns). You can tell the cast is incredibly talented. The supporting cast looks to be just as good if not better than the main actors in it. I really hope they continue to give Jane Lynch a lot of screen time. If you are a fan of the musical genre there is no way you will want to skip this one. If you have a bit of trouble getting into the over the top performances than this show may not be for you. I think if you can allow yourself a little fun you'll be very surprised at the results this show gives you. With the buzz surrounding it, it could be around for a very long time. Watch the pilot below!
Starts airing Wednesday September 9th at 9/8PM Central.
Brothers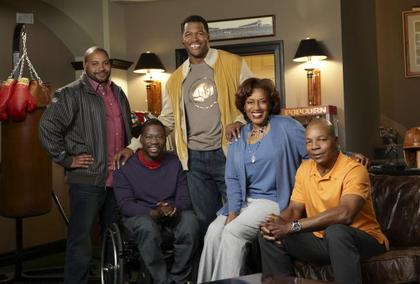 Starring Michael Strahan ("FOX NFL Sunday") and Daryl "Chill" Mitchell ("Ed," "Veronica's Closet"), BROTHERS is a new half-hour comedy about a former NFL hot shot who learns that even though you can always go home again, the trip back might be tougher than you think. MIKE TRAINOR (Strahan) seemingly has it all he's a good-looking, wealthy and recently retired NFL player living the high-life in New York City, but he's about to get sidelined. When Mike gets a phone call from his MOM (CCH Pounder, "The Shield") who orders him home to Houston, he quickly realizes the more his life has changed, the more his family has stayed the same. His brother CHILL (Daryl "Chill" Mitchell), whose life was altered drastically after a car accident left him in a wheelchair, is struggling to keep his restaurant afloat with the help of his loudmouth associate, ROSCOE (Colton Dunn, "MADtv"). The dynamics between Mike and Chill are the same as when they were kids, and their sibling rivalry hasn't lessened with age. If they can stop their bickering, put aside their differences and learn to be teammates, the brothers might just turn out to be each other's biggest asset. Wedged between Mike and Chill are their parents. Their father, whom everyone refers to as COACH (Carl Weathers, "Rocky"), is the local high school football coach and the conservative, opinionated alpha male of his clan. Coach thinks he runs the show, but really it's Mom who calls the shots. Saucy, stern and a schemer, she is the mastermind of the family. And when she learns that Mike's business manager took off with all his money, she orchestrates a plan to keep Mike in Houston, save Chill's restaurant and bring the family back together under one roof again all without anyone realizing what she's up to. Mom's plan helps Mike realize that his family however dysfunctional they may be is the only family he's got. And although he may not have a penny to his name, as long as he's surrounded by people who love him, he'll always be a rich man.
Worth watching? Apparently not. It's not due to a lack of a good cast, but the writing. The cringe worthy dialogue sets it apart from almost every other comedy released this fall to make it the worst of the season.  I think the most disappointing thing about this all is the cast is filled with potential. Although, until the writer's room gets a bit better we can't really see what they are capable of. This could be the first of FOX's shows to go. Although with its aim towards a more urban audience, it could hit a spot that is missing in primetime. There are not many shows aimed toward that demo anymore, and this could really fill that gap. Let's hope they can make it a bit funnier and have it span across all demos.
Starts airing Friday September 25th at 8/7PM Central.
The Cleveland Show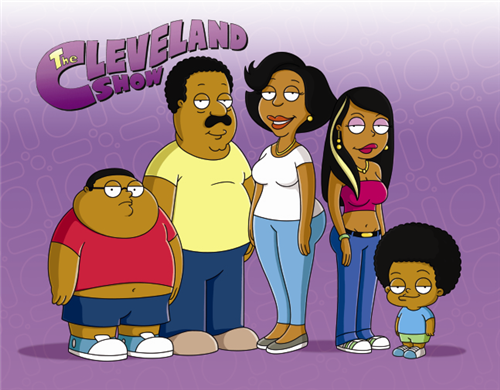 THE CLEVELAND SHOW is a new animated series that follows everyone's favorite soft-spoken neighbor, CLEVELAND BROWN (Mike Henry), to his hometown in Virginia as he settles down with his high school sweetheart, her unruly kids and his own 14-year-old son, CLEVELAND JR. (Kevin Michael Richardson). Many years ago, Cleveland was a high school student madly in love with a beautiful girl named DONNA (Sanaa Lathan). Much to his dismay, his love went unrequited, and Donna wound up marrying another man. Cleveland once told Donna he would always love her, and if this man ever done her wrong, he'd be there when she called. Well, this man done her wrong. Donna's husband ran off, leaving Donna with a teenage daughter and a young son. Now she's open to Cleveland and has offered him another chance at love. Unattached after the Loretta-Quagmire debacle and true to his word, Cleveland joyously reunites with Donna, and he and Cleveland Jr. move to Virginia to join their new family. Once in Virginia, there are a few surprises in store for Cleveland, including ROBERTA (Reagan Gomez-Preston), a rebellious new stepdaughter; RALLO (Henry), his new 5-year-old stepson who loves the ladies; and a collection of neighbors that includes a loudmouth redneck, LESTER (Richardson); a hipster wanna-be, HOLT (guest voice Jason Sudeikis); and a religious pair of talking bears, TIM (Seth MacFarlane) and his wife ARIANNA (guest voice Arianna Huffington).
Worth watching? Um, I might be in the minority here, but I don't think the Cleveland show looks funny at all. It looks like Seth McaFarlane took Family Guy and cloned it added a bit more color and made it a lot goofier (which is even harder in the first place). The humor appears a bit to broad, but it really hard to tell how good a show is going to be in a couple minute long trailer. I'm sure if you are a fan of Seth MacFarlane you'll probably enjoy this one. I'm just not sure it was needed, they could've used a lot of the same jokes on Family Guy and been just as effective. Hmm, maybe I'll be wrong and the show will be much funnier than the trailer I watched, but until I see something to prove me wrong I'll keep my stubborn opinion.
Starts airing Sunday September 27th at 8:30/7:30 Central.