Review: New Line's BE MORE CHILL Brings Broadway Musical to The Marcelle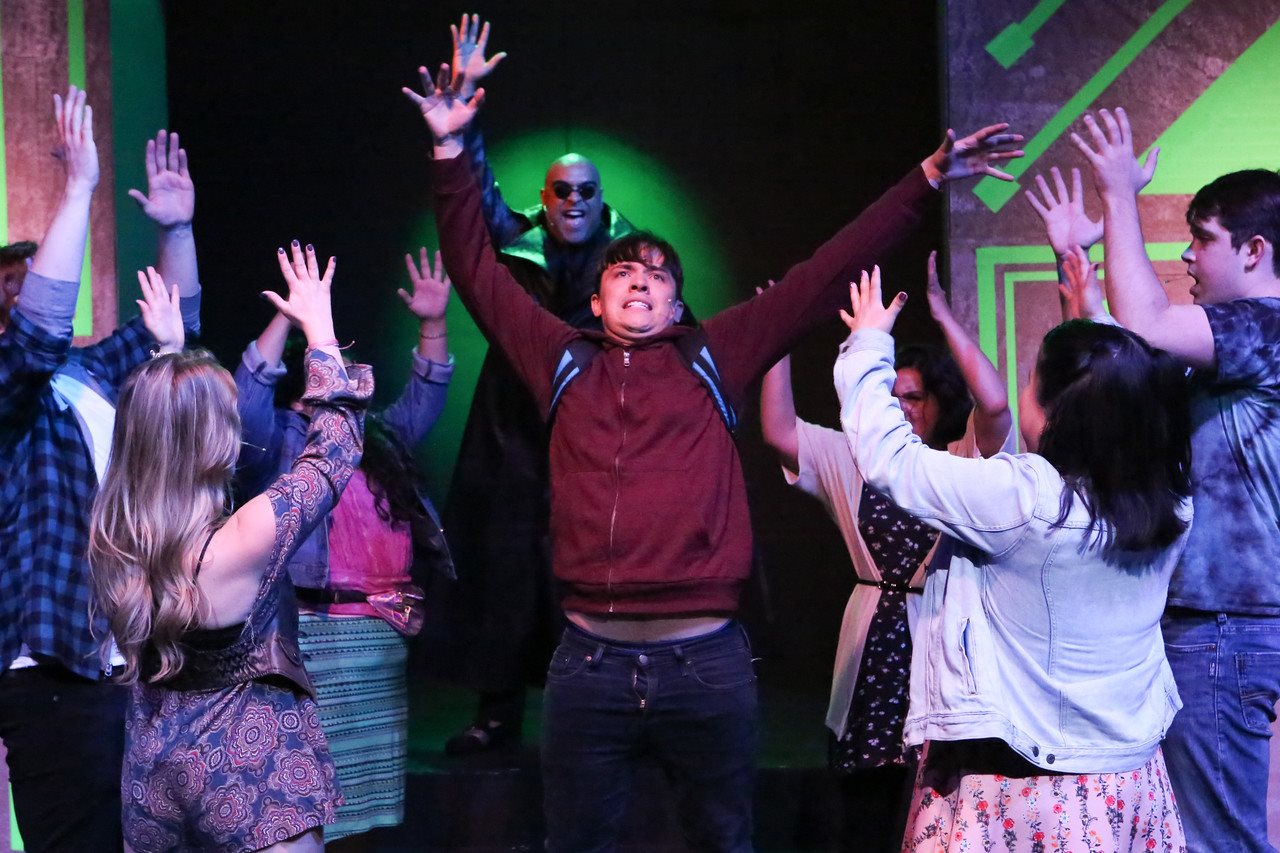 "I don't want to be special… I just want to survive."
Be More Chill is the modern anthem for anyone who has ever felt like they don't fit in, or doesn't belong to the "cool" group in high school. It isn't so much about wanting to stand out as it is about just getting by. Another day without being judged, feeling stupid, bullies messing with you. Just get through the day so you can be with your friends – where you feel accepted and can do what you enjoy.
It's not to say that if you were popular in high school, or one of the "cool" kids, that you won't enjoy the show. The songs are well-written and extremely catchy, with plenty of laughs throughout. Be More Chill is undeniably clever and entertaining on all counts. But for those who have lived life on the outside, it really hits home. And something that exists as great entertainment becomes much more special through this lens.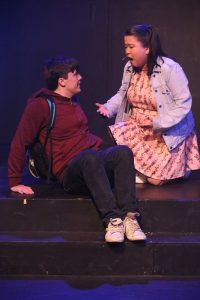 Based on Ned Vizzini's 2004 book of the same name, Joe Iconis (music and lyrics) and Joe Tracz (book) have created a phenomenal show about modern adolescence. Be More Chill follows Jeremy (Jayde Mitchell), who wants to avoid bullies like Rich (Evan Fornachon), hang out with his best friend Michael (Kevin Corpuz), and talk to the girl of his dreams Christine (Grace Langford) before she can be swept off her feet by a jock like Jake (Ian McCreary). After a run-in with Rich, the bully tells him that he actually didn't use to be "cool" until he got a Squip – top-secret Japanese technology that implants itself in your brain and tells you what to do and say in order to "Be More Chill." Jeremy eventually gets one, which manifests itself in the form of Laurence Fishburne from The Matrix. The Squip (Dominic Dowdy-Windsor) does change his personality – allowing him to hook up with popular girls like Brooke (Melissa Felps) and Chloe (Laura Renfro) – but at what cost?
Read our interview with Joe Iconis here.
The original cast recording is what gave the show a second life after its original run at the Two Rivers Theater in New Jersey. The songs started getting over a million streams per month, leading to an off-Broadway engagement. Two months in, the streams kept growing, and the Broadway move was announced.
The point is that the songs and incredibly good, while striking a chord with millennials and those who are close in age. And luckily before the show rights were pulled ahead of the Broadway run, New Line Theatre was able to lock them in. And St. Louis is extremely lucky to have access to this show.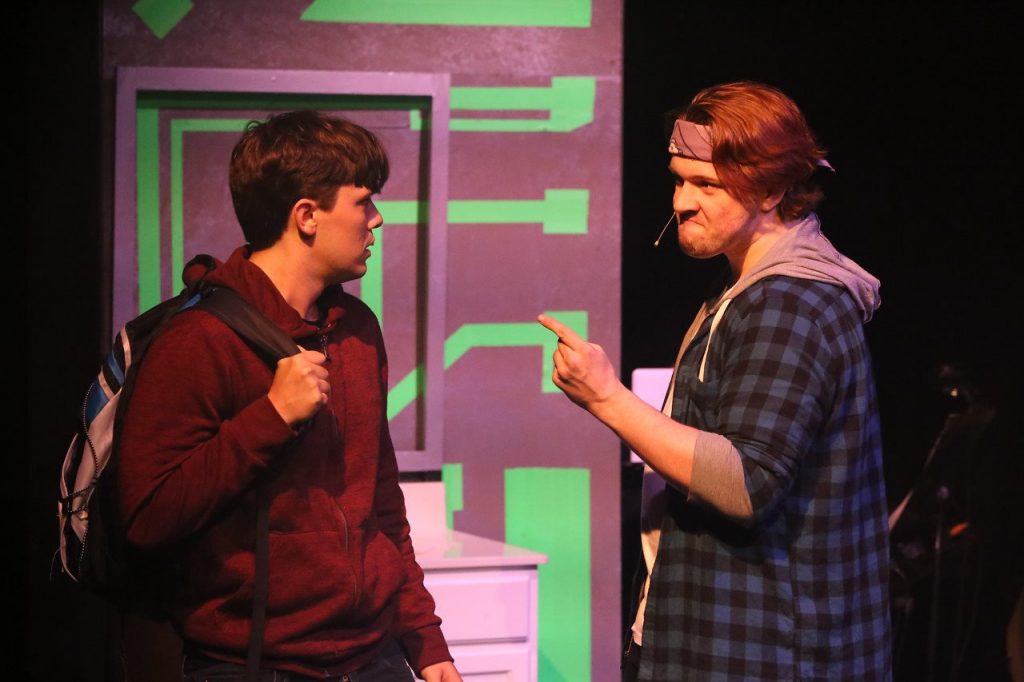 Be More Chill is the ideal show for New Line. It has the rock spirit of American Idiot, and the high school drama of Heathers – two shows they have staged incredible productions of in the past. Throw in some sci-fi and technological elements, and you have a kick-ass rock musical about growing up in modern times. If I've said it once, I've said it a hundred times – Artistic Director Scott Miller has a seemingly supernatural ability to find the best shows and bring them into the spotlight. In the case of Be More Chill, it was already rediscovered – but not before Scott got his hands on it. With Mike Dowdy-Windsor, who he co-directed the musical with, they staged one of their best productions in recent history.
Jayde Mitchell is the perfect Jeremy. The actor embodies everything that makes the character great, and brings so much truth to him. When the show opens, and you see a typical kid who is just trying to get through the day, you immediately sympathize Jeremy. He has problems at home, and trouble with bullies at school. And he wants to talk to the girl he admires, but can't muster the courage to do so. Mitchell says it all through his body language – with his posture and the way he carries himself. And the actor has a fabulous voice, doing justice to Iconis' words while backed by the talented New Line Band. Later as Jeremy gets his Squip and learns how to Be More Chill, you never doubt the transition the character is going through. His hair is neater, he carries himself differently, and all of a sudden he seems like a different person. But it's still Jeremy, with Mitchell essentially playing a different character and convincing you that it's the work on a nano-computer in his brain causing the change. Mitchell is a welcomed addition to the New Line family, who I hope we will be seeing more of in the future.
Jeremy's best friend Michael is played by Kevin Corpuz, an actor as talented as he is a vocalist. Corpuz plays the fun-loving, goofball buddy with a never-ending supply of charisma. His character is the guy you can always count on – as dependable a friend there ever was. And when Jeremy starts to lose sight of what is really important, Michael takes the brunt of it. You can't help but feel for him, especially after the show-stopping number "Michael in the Bathroom" which takes place near the beginning of ACT II.  Corpuz bares his soul in this heartwrenching performance, bring the audience to roaring applause.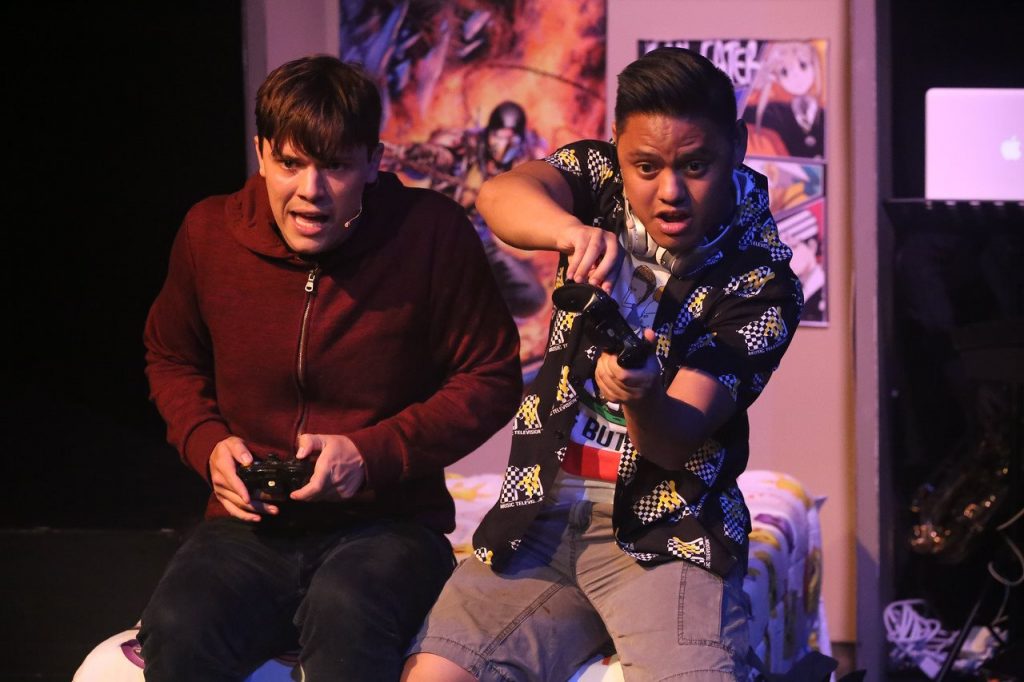 It doesn't get much better than watching Mitchell and Corpuz leaping off the bed while performing "Two-Player Game," and also putting their skills to use during "The Play." There is a tremendous amount of chemistry between the two.
The Squip (Super Quantum Unit Intel Processor) is a really interesting character, being a supercomputer that only the person whose brain they're implanted in can see them. It takes the form of a celebrity who the user sees as being cool. In the show, Jeremy sees a Matrix-adjacent character like Neo (on Broadway the actor channels Keanu Reeves). In New Line's production, Dominic Dowdy-Windsor channels Morpheus and absolutely nails it. He has the look down, thanks to the gorgeous costume design of Sarah Porter (who made the most terrific jacket you could imagine for the role). And his body language matches Fishburne's from the film masterfully. After seeing the actor in numerous New Line roles, this is most certainly his most villainous. Dowdy-Windsor makes sure the Squip is a character you love to hate as he makes each cold and calculating move. He makes a lot of clever choices in bringing a computer to life, like entering programming on his watch and visualizing computer-generated outcomes like something out of Minority Report. The ominous use of lighting matched with his control over the actors and band were all executed wonderfully. Dowdy-Windsor has also proven to have a wide range of vocal talents over the years and puts them to excellent use once again.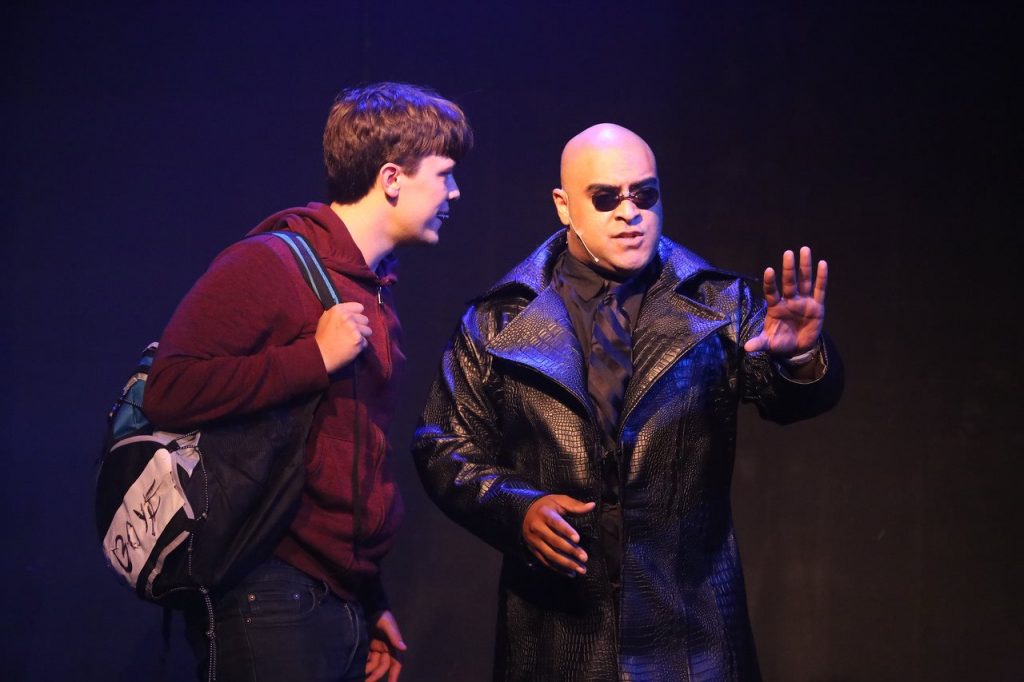 It's always a pleasure seeing Evan Fornachon in New Line shows, and no surprise as he impresses once again Rich. First of all, when he explains to Jeremy what a Squip is and how it works, it is absolutely hilarious. He does this sci-fi, techno breakdown with hand motions that are so fantastic. Then as the show goes on, the interactions with his own Squip become more intense – giving Fornachon some traumatic scenes. He's good when it comes to the bullying stuff, but we've seen all that before. But the actor really shines when it comes to dealing with the Squip and the aftermath.
Melissa Felps and Laura Renfro are so good as the "mean girls," if you will. Brooke may be a bit clueless, but her intentions seem good enough. Meanwhile, Chloe would fit right in with the Heathers. At first, neither of them want anything to do with Jeremy. Yet as the show goes on, both of them are drawn to him thanks to the Squip. I absolutely adored their rendition of "Do You Wanna Ride?" The choreography here, and throughout the entire show, is so good – thanks to the delightful work by Michelle Sauer and Sara Rae Womack. Both of these women own their roles and bring a lot of laughs.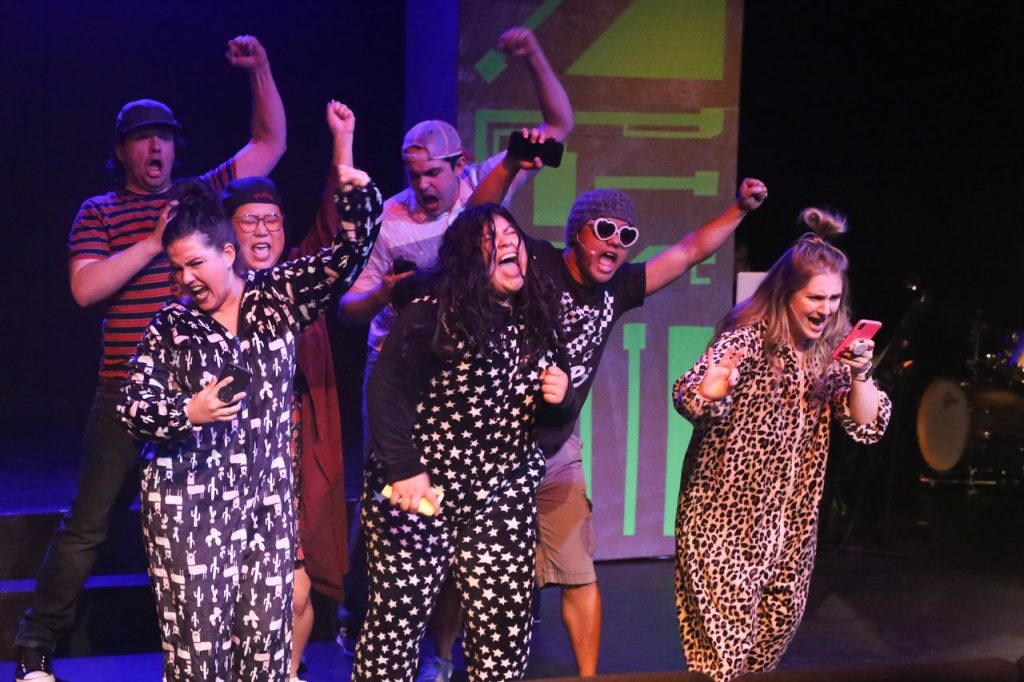 Speaking of the comedy in the show, no actor provides more physical comedy than Grace Langford as Christine. Every single number, and every time she shows up on-stage, Langford brings the heat when it comes to her choices. From her appearance in "More Than Survive" at the top of the show, to "I Love Play Rehearsal," she lights up the stage with her charming portrayal. I've seen her in a few shows now, and she is always a joy to watch.
Ian McCreary is great as the jock competing for Christine's affections, who is also Chloe's ex (which offers up a lot of laughs at the Halloween party). The role is that of the typical, clueless cool guy – but the actor makes it his own and has fun with it. Isabel Cecilia Garcia plays Jenna, one of the "cool" girls, and really shines in "The Smartphone Hour." The number is a really fun play on the classic "telephone" convention, where the facts of events are wildly misconstrued.
Last but certainly not least, New Line veteran Zachary Allen Farmer plays three roles in the show and is hilarious as always. Both of the smaller parts he plays as a shoe salesman and drama teacher are a lot of fun, but where he really gets to use his talents is the role of Jeremy's dad. Farmer plays a depressed father who was left by his wife and can't even manage to put pants on to start the day. But when push comes to shove, he realizes that he has to be there for his son. And the actor is brilliant, especially when he leaps into action with "The Pants Song." Farmer and Corpuz have such an entertaining chemistry in the number, which had the audience hysterical.
After years of gazing upon sets created by the talented Rob Lippert, I expect nothing less than amazing. And once again, Lippert knocks it out of the park with his versatile scenic design. The set appears somewhat simplistic, with 4 large columns – decorated with futuristic-looking circuitry. But spin each of them around and you will find lockers, bedrooms, bathrooms, etc. This show doesn't have to be big, and New Line lets the music and book speak for themselves.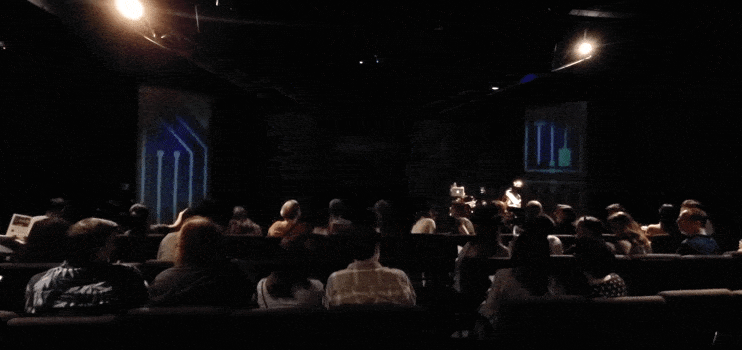 It's no mystery as to why the music in the show was streamed millions of times per month, even though it only played four weeks during the show's original run. It's really that good – and will have you listening to the album on repeat long after you leave the theatre. Iconis has been hard at work creating theatre for over a decade, but Be More Chill has cemented him as one of the greats. The New Line Band sounded terrific all night while performing his addictive score. The music reminded me of the energy in RENT, another show that is exhilarating to see performed live.
Make no mistake, Be More Chill is a show that is going to be around for a long, long time. After Broadway, which hopefully won't be anytime soon, this show will be performed all over the world – inspiring new generations and teaching them that it's okay to be yourself. It's an ageless lesson, told from a modern point of view and paired with incredible music. Living in the midwest, I consider myself extremely lucky to be able to see the show without traveling far – and it's an extraordinary version at that.
Now back to the original cast recording, where I've lost count of the play-throughs.
See Be More Chill at New Line Theatre, Thursday through Saturday until June 22. Tickets are available via MetroTix. For more information, visit newlinetheatre.com.
Photos: Jill Ritter Lindberg.