Review: Vengeance Rules the Day in Opera Theatre's Powerful Rigoletto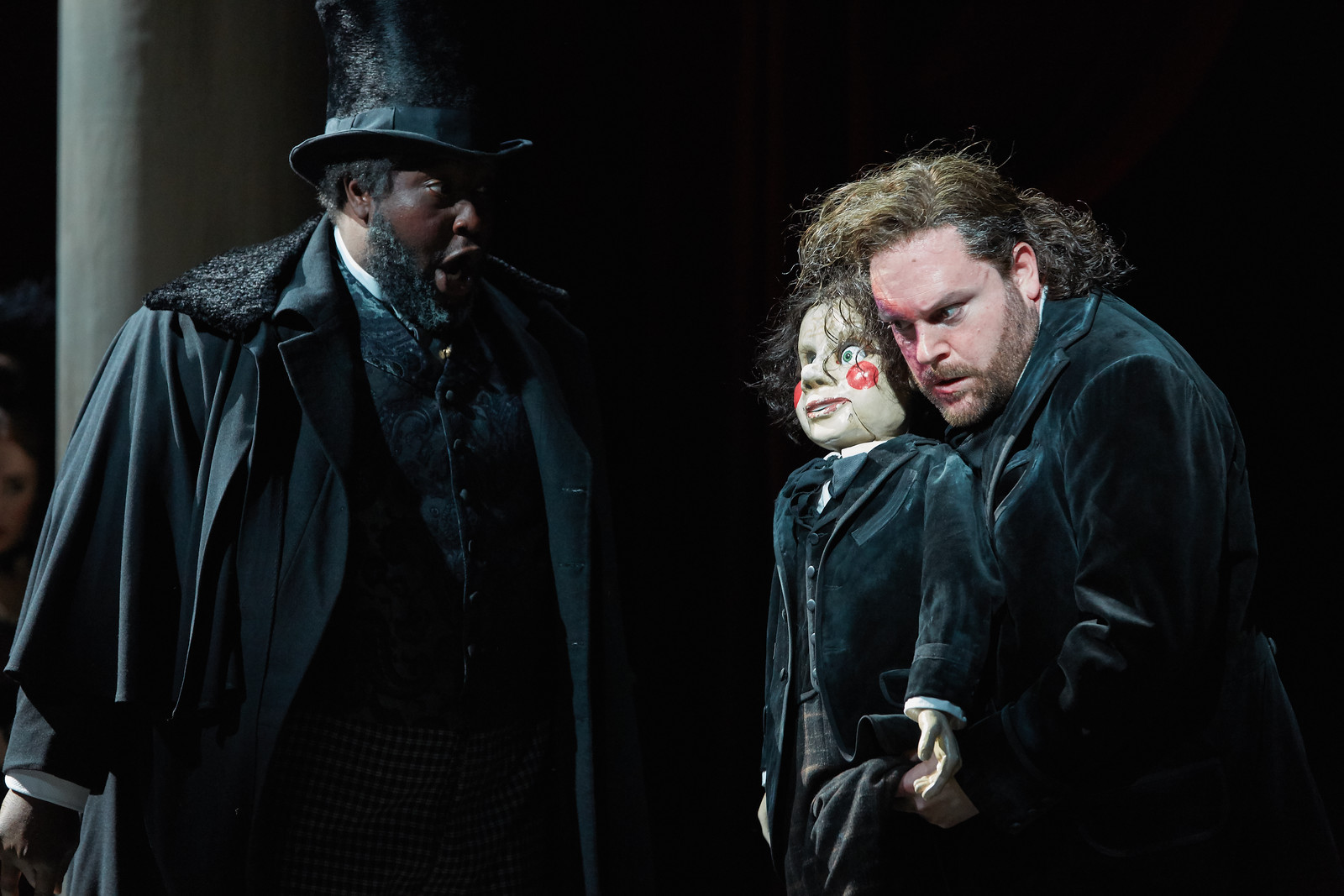 Returning to Opera Theatre St. Louis for the first time in a decade, Rigoletto is a sad and sordid affair. Loaded with scheming, lust, jealousy and revenge, it is not for the faint of heart.
Directed with stunning emotional potency by Bruno Ravella (in his OTSL debut) the production is dark. Very Dark. Verdi based this opera on a play by Victor Hugo and his staging follows Hugo's lead in emphasizing characters whose morality inhabits various shades of grey.
For the OTSL stage, Ravella's interpretation of Verdi's classic opera sees the director putting his own stamp on the production. First, he's taken the opera out of its medieval trappings and placed it snugly in 19th century Paris where the opulence and greed of the upper classes exploit the powerless lower classes. He's also added a seriously dystopian vibe to the proceedings with the stage lighting, costumes and use of color. Also gone is Rigoletto's trademark hunchback, replaced with a ventriloquist dummy that serves as a deeper exploration of the jester's fragile psyche.
While there's not an altruistic soul in the lot, there is the salacious lead Rigoletto, a jester whose bitterness and contempt knows no bounds. Thunderous in his rage, he presents audiences with an anti-hero who will stop at nothing to protect his daughter Gilda. However, buried beneath the spite is an empathetic father. Loyal to his master, the Duke of Mantua, as well as his daughter, Rigoletto's rage is unleashed after he discovers that the Duke has seduced and then abandoned his precious daughter.
The Duke is a despot in every possible way. His charms mask a deceit and lechery that has made him hated by nearly everyone. His womanizing has made him a marked man and sealed his undoing.
Driving the angst is Count Monterone, a member of the Duke's court whom is hellbent for revenge after the count (surprise) seduces his daughter. Furious, he lashes out and places a curse on both Rigoletto and the Duke.
From here Rigoletto doesn't get any cheerier as the curse weight heavily on his mind while creating a cascade of backstabbing, scheming, murder and intrigue.
Emotionally ramped up, all this drama causes a spiraling upheaval that leads to a string of very bad decisions that culminates in a tragic conclusioncourtesy of a cunning assassin named Sparafucile.
Relying on the strength of its cast, Rigoletto is a concentrated burst of vengeance spread out over three acts. Messy, complicated and poignant, it's a series of layered dirty deeds that escalates the drama as it plays out.
Roland Wood returns to the OTSL after establishing himself as a pretty big deal internationally. Since his debut with the company's Macbeth in 2016 he has established himself as one of opera's best Baritones. Here he brings a mischievous cunning to Verdi's jester in one of the season's standout performances. Wood's commanding performance is nothing short of brilliant.  
Also returning to Opera Theatre is So Young Park as Gilda. A rising star, she balances the fragile with the fraught perfectly. Her aria, "Caro Nome" was intensely powerful and moving, highlighting the entire production. Putting her exclamation mark on Rigoletto, Park's scenes with Wood in acts three and four are perfect examples of the emotional gravitas of opera.  
They are sheer magic on stage.
Not to be outdone is Joshua Wheeler in his debut with OTSL as the Duke. Slithering and manipulative, his emotionally bankrupt take on the role gives audiences a villain that shatters the scoundrel archetype by taking to interesting new places.
Relentless, agonizing and filled with moments of wrenching sadness, Rigoletto is a maelstrom of tension and chicanery. Despite this deluge of torment and tumult, this fresh incarnation of Rigoletto simply must be experienced.
Rigoletto is sung in English with musical accompaniment from The St. Louis Symphony Orchestra. Performances are held at the Loretto-Hilton Center on the campus of Webster University. For more information visit opera-stl.org.