Concert Review: Dierks Bentley at Hollywood Casino Amphitheatre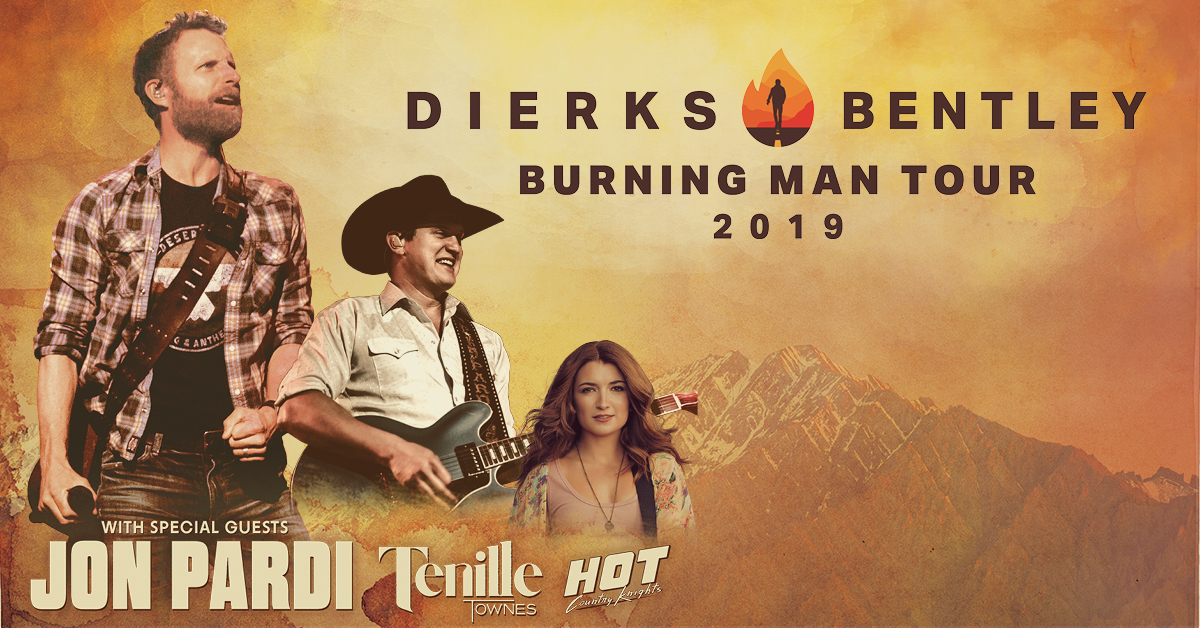 By Bryan Bealmear
Dierks Bentley brought his Burning Man 2019 tour to Hollywood Amphitheatre this weekend. Along for the ride this time were Hot Country Knights, TenilleTownes, and John Pardi.  
Hot Country Knights got things started off. In a set that included everything from infighting in the group, to a love child reemerging, to classic country. The group felt awfully familiar, something a little more than their set of covers of 90s country hits. As the band put it, 90s country was the only country worth playing, not like today's music. The set included: Travis Tritt's "TROUBLE", Brooks and Dunn's "Brand New Man", a duet of "Does he love You", Shania Twain's "Man! I Feel Like a Woman!", and finally closing up with "Some Girls Do".
After a brief 23-hour rain delay, the Canadian newcomer Tenille Townes took the stage. Her set included all original songs "White Horse" and the emotional "Jersey on the Wall" Before wrapping up with set with her currently single "Somebody's Daughter".
Next up was the California Cowboy John Pardi.  Starting off his set with the upbeat "What I Can't Put Down". Fresh off lending his talents to Brooks and Dunn's Reboot project, Pardi did his version of My Next Broken Heart". Pardi had a good mix of his hit songs and songs from his upcoming album "Heartache Medication" which comes out September 27th.  Among the new songs Pardidebuted were the title track of the album "Heartache Medication", "Me And Jack", and "Ain'tAlways The Cowboy". Pardi also brought out "Night Shift", "Cowboy Hat", "California Sunrise", before closing with his hits "Heartache on the Dancefloor", "Head Over Boots" and "Dirt on my Boots".
Bentley took the stage to his hit song and namesake of the tour "Burning Man". Throughout the course of his set, he had brought out both Townes and Pardi, oddly omitted from this was the Hot Country Knights.  Bentley took the full crowd on a musical journey that included his first hit song" What was I thinking" all the way up to his current single "Living".
With stops in-between to "Somewhere on a Beach", "Women, Amen", "Am I the Only one", "Black", "I Hold On", "Riser", "5150", and "Come a Little Closer". Then ending the set, while thanking the fans for coming out, with the high energy "Sideways".
After a brief message from Dude Air, Bentley returned to the stage donning a pilot Dude Air pilot hat. Starting off with "Drunk on a Plan" and then closing with "Free and Easy".